An entry-level — but professional — camcorder in terms of its fairly modest price, the Canon XA20 can match its performance with that of top-tier models. The XA20's pro features deliver the ultimate results in a miniature package. Perfect for videographers in need of a "run-and-gun" camera, the recording versatility and outstanding video quality makes the XA20 ideal for independent and documentary filmmaking in particular. Take a look at the features, pros, cons, and specs, and see whether the XA20 is right for you.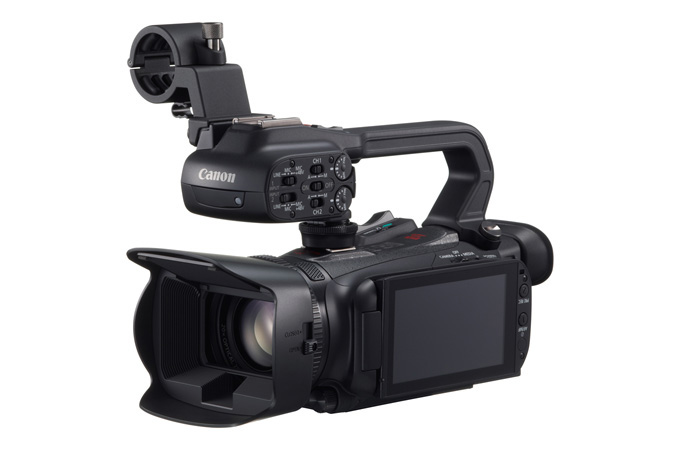 Canon XA20 Review
For a professional camcorder, the Canon XA20 is unique in the fact that it delivers power in such a compact package, perfect for shooting in sensitive or confined environments. Handheld filming during extended shooting periods is a breeze, thanks to the lightweight exterior.
A few of the standout features of the XA20 are the top-mounted detachable handle, the external microphone mount, and the comprehensive audio control panel housing dual XLR inputs. Various zoom controls are also present — a front-mounted ring and a body-mounted rocker switch.
Zoom can also be controlled via the 3.5-inch, 1.23m-dot OLED touchscreen, for which options like high-speed or soft are available, as well as slow mode, which comes with 16 levels. The OLED touchscreen acts as a monitoring panel, containing indicators for magnification focus assist, peaking, and zebra striping. Other standard controls include automatic gain, manual exposure, exposure compensation, and shutter and aperture priority. The 0.24-inch, 1.56m-dot electronic viewfinder tilts up to 45 degrees, able to accommodate various shooting positions.
The Canon XA20 comes equipped with a 1/2.84-inch CMOS sensor that has an estimated effective pixel count of 2.91MP, which allows for stunning video quality with a realistic reproduction of color and an exquisite dynamic range. With its upgraded 20x zoom lens, the XA20 provides the ability to capture even more footage, thanks to the 35mm equivalent of a 26.8mm-576mm lens, and a minimum object distance of just 23.6 inches. The XA20's focus distances are astounding, coming through with a minimum focus of 60mm throughout the normal zoom range, and down to 10mm when in Wide Angle Mode.
Any shaking that occurs during shooting will be compensated for in five directions by the Dynamic Optical Image Stabilization feature. Stunning in its low light capabilities, the Canon XA20 comes equipped with an infrared light source built into the detachable handle, allowing for the capture of quality video even in low ambient light and even at night.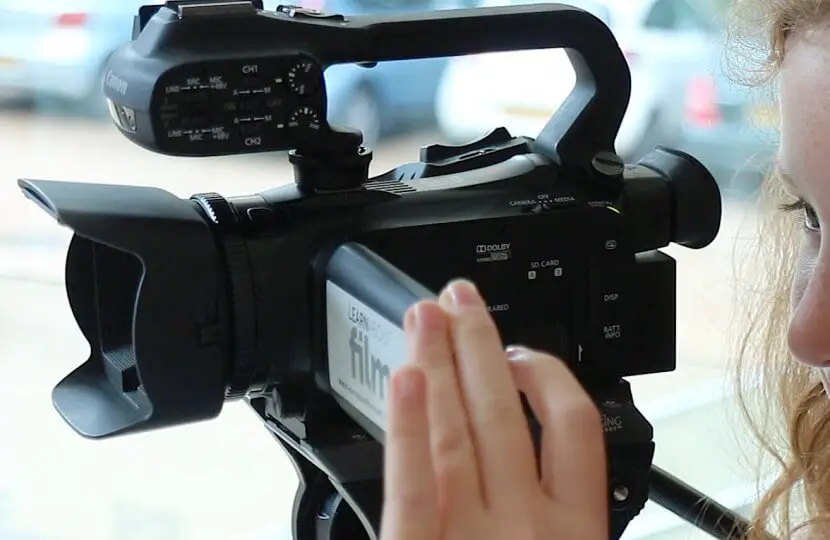 Various other modes are available, such as Auto Mode, which can shoot in light down to 1 lux, and Slow Shutter Mode, which can shoot as low as 0.1 lux. SmartAuto mode provides multiple presets for specific environments, like Portrait, Beach, Sunset, Night, Snow, Spotlight, and Fireworks. A cinema-look filter is also available with nine options and image effects for brightness, sharpness, contrast, and color depth.
Equipped with the high-speed DIGIC DV 4 processor — a next-generation innovation by Canon — the Canon XA20 offers dual-format recording, allowing users to record at AVCHD video of up to 28Mbps in a 1080/50p setting. On the other hand, if maximum quality is desired, recording at 35Mbps in a 1080/50p setting is indeed an option. The dual SD / SDHC / SDXC memory card slots provided by the XA20 make it possible for simultaneous recording at both a lower resolution and in high-definition.
More simply put, the power of this incredible image processor allows the camera to simultaneously encode video to two different codecs and bit rates, resulting in a web-ready version of the master footage the moment the recording is complete.
Further still, the audio capabilities of the XA20 are quite impressive as well, providing professional connectivity with its two XLR inputs, with which Linear PCM and Dolby Digital recording options are available.
A welcome addition to the Canon XA20 is its built-in Wi-Fi capabilities. In its simplest form, the built-in Wi-Fi allows the XA20 to act as a remote control or a monitoring system through the use of a web interface. Better yet, no apps are required; instead, connectivity is seamless, as the camera shows up as a Wi-Fi hotspot on said smartphone or tablet's network.
The ability to wirelessly transfer footage using a smartphone or tablet, or via FTP at up to 150Mbps, is also available, which is particularly useful for news gathering out in the field, an industry in which speed is a necessity. Another helpful function for those often out in the field, the Canon XA20 has a GPS functionality that can seamlessly record location data when utilizing an optional GPS accessory.
With that perfect combination of functionality, portability, and a somewhat small price tag, the Canon XA20 is a purchase that is sure not to disappoint. It's important to note that while its predecessor, the Canon XA10, was the premier model and certainly groundbreaking in its own right, the Canon XA20 has since broken the mold. Equipped with professional-level functions and video quality that deserves the utmost of praise, the XA20 is so uniquely capable and versatile in its shooting abilities and more, that it would suit even the harshest of critics.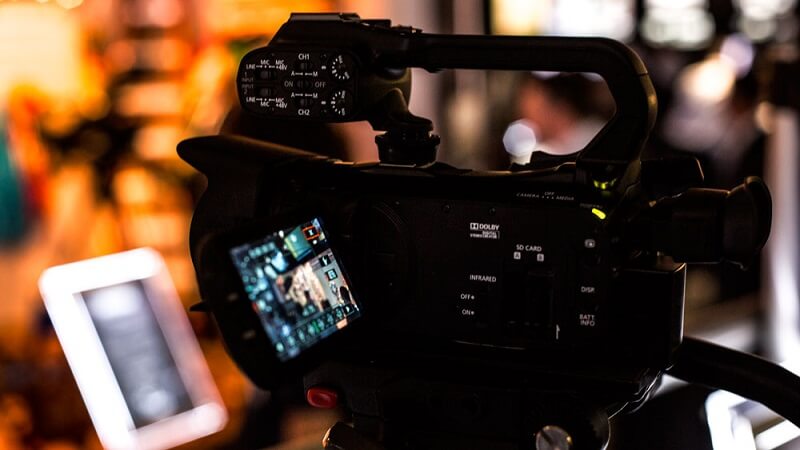 Canon XA20 Specs
• 1/2.84-inch CMOS Sensor.
• Native 1920 x 1080.
• Canon DIGIC DV 4 Image Processor.
• 20x HD Zoom Lens.
• Dynamic Image Stabilization.
• MPEG4-AVC / H.264.
• Zebra 70/100%.
• 3.5-inch, 1.23m-dot OLED Touch Panel View Screen.
• 0.24-inch, 1.56m-dot Tilting Electronic Viewfinder.
• Dual XLR Inputs with Manual / Auto Audio Levels.
• Detachable Handle.
• External Microphone Holder.
• HDMI, Composite Video Out.
• Dual SD / SDHC / SDXC Memory Card Slots.
• Built-in Wi-Fi Connectivity and Control.
• Dimensions of 4.3 x 3.3 x 7.2-inch.
• Weighs approximately 1.7 lb.
Canon XA20 Price and Extras
The Canon XA20 is priced at around $1,999. This shoot-ready configuration includes the necessities, like the camcorder itself, AC adapter/charger, power cord, BP-820 battery, lens cap, and lens hood, as well as the detachable handle, external microphone holder, remote, RCA cable, and HDMI cable.
The ultra-compact size of the Canon XA20 can't fool anyone, as the numerous innovative features included will suffice for even the most serious of professionals. An excellent choice especially for videographers requiring portability, with its versatile 20x zoom, built-in Wi-Fi capabilities, and its dual XLR inputs, the XA20 is in a class of its own. Let us know your thoughts on the Canon XA20!