In the professional world of videography, specific expectations once made it difficult to acknowledge a smaller build as being anything of immense worth – the Canon XA10 broke those barriers. The ultra-compact XA10 is a professional-grade camcorder that combines its discreet size with incredible features, user-friendly controls, and stunning video quality. Although fit for all types of shooting, the XA10 is perfect for videographers that require mobility while shooting. Check out the features, pros, cons, and specs to determine whether the Canon XA10 is the one for you.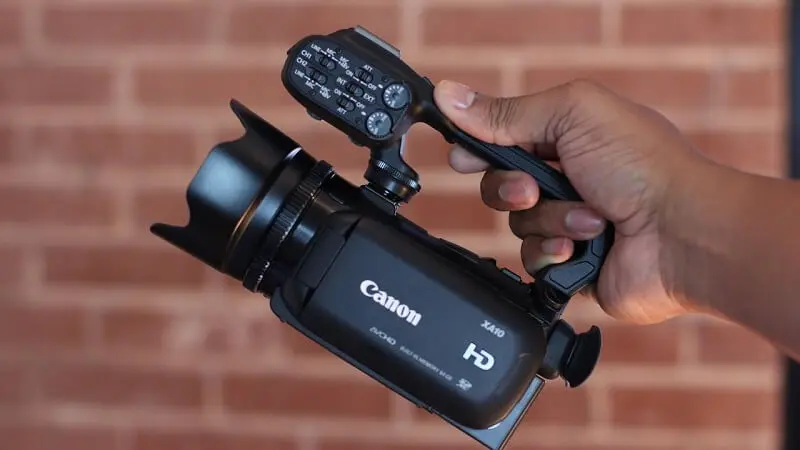 Canon XA10 Review
Comfortable to hold for prolonged shooting, the Canon XA10 maintains a signature compact body on which only the most important buttons are present, distributed in a most efficient manner. In lieu of buttons, other features, like white balance and exposure control, can easily be accessed via the touchscreen menu.
Additional features can be found on the detachable handle, an inclusion particularly relished by users, as it provides an alternate grip option for handheld shots. Located towards the front of the handle, sit a secondary zoom control and a lockable record button, making low angle shooting a breeze. The most loved feature of the detachable handle is that it is, in fact, detachable, making compact travel simple. Further, the handle also contains two phantom powered XLR ports with manual audio controls and an external microphone mount.
The Canon XA10's 3.5-inch, 922k-dot LCD touchscreen is a treat to use, providing users with various features any professional videographer would require. Nearly all of the camera's functions can be accessed through the LCD menu without any hindrance, even while shooting. Once accessing a particular function, a shortcut button appears on the display, allowing for quick access the next time around.
On the topic of customization, one of the most stellar features for image adjustments is the "Custom" button and dial, located on the rear of the camera. Available adjustments include exposure, iris, and shutter speed, all while shooting in manual mode, a particularly helpful feature when sudden condition changes occur. Something to keep in mind is that the iris is the only aspect that can be adjusted when shooting in Av (Aperture Priority), whereas only shutter speed can be adjusted when shooting in Tv (Shutter Priority).
One of the most notable features that cannot be ignored is the Canon XA10's generous 64GB internal flash memory. This large capacity allows for nearly six hours of video at the highest quality of 24Mbps and over 24 hours at the lowest quality of 5Mbps. Equipped with two SD/SDHC/SDXC card slots, the XA10 has a feature called Double Slot Recording, which allows video to be simultaneously recorded onto both memory cards, resulting in a seamless backup.
Another useful feature is Relay Recording, which allows the camera to automatically switch from the internal memory to the SD cards once full capacity has been reached.
While all of the features mentioned above on this feature-heavy camera are impressive, the Canon XA10's defining glory comes in the form of its video capabilities. With a 1/3-inch CMOS sensor, a 10x HD zoom lens, and an 8-blade iris, the XA10 delivers impeccable 1080p video quality. Obtaining a crisp focus on your subject is particularly important when it comes to video production, and the multiple options provided by the XA10 do not disappoint. For instance, each move of the focus ring on the front activates Focus Assistance, which provides 2x magnification, quickly resulting in sharp focus.
Also available is an edge monitor waveform display, focusing distance display, and color peaking. Enhanced Auto Focus is another such feature, achieving excellent results in low-light, low or high brightness, or different contrast conditions. Infrared Night Mode allows for the capture of video in low or no ambient light. Shooting infrared imagery in complete darkness is possible, and the user can choose between white or green light mode, useful in particular for nature videographers whose subjects are nocturnal animals.
The Canon XA10 comes equipped with the DIGIC DV-III Image Processor, the powerhouse responsible for features like Canon Face Detection, Touch and Track, and Smart Auto. Touch and Track is one of the several functions that can be utilized to track and stay focused on the movements of one particular person amid a crowd of people. Sporting events, like football games, can be filmed with the intent of focusing on the face of a beloved star player, capturing all the goods for an instant replay. Finally, Smart Auto detects and analyzes factors such as brightness, movement, and color, selecting the best settings based on its resulting analysis.
Verdict: the Canon XA10 is an affordable camera with many useful functions that would serve any videographer well. Perfect for a variety of conditions, like travel, nature, or sporting event filming, the XA10 is also an excellent tool for shooting independent films and music videos alike.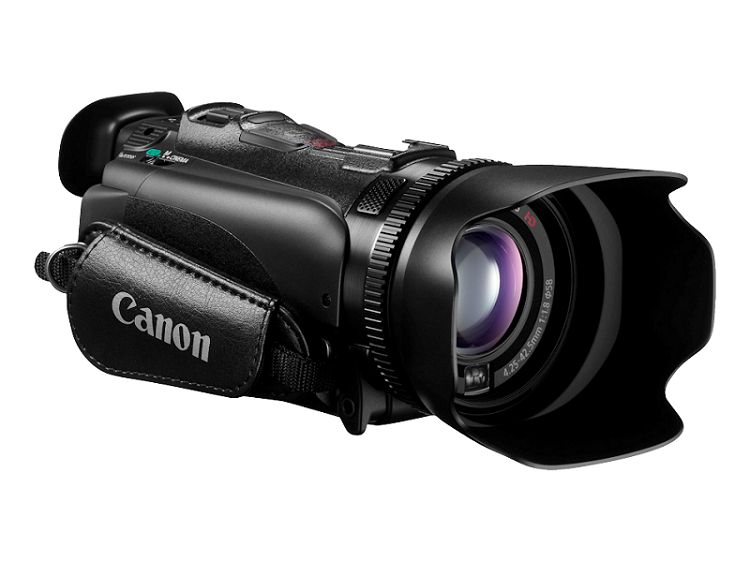 Canon XA10 Specs
1/3-inch CMOS Sensor.
Native 1920 x 1080.
24Mbps AVCHD Recording.
60i, PF30, PF24, Native 24p.
MPEG4-AVC / H.264.
10x HD Zoom Lens.
64GB Internal Flash Drive.
Dual SD / SDHC / SDXC Memory Card Slots.
3.5-inch, 922k-dot Touch Panel LCD Screen.
0.24-inch, 260k-dot Widescreen Viewfinder.
Waveform Monitor, Peaking, Zebra 70/100%.
Dual XLR Inputs w/ Detachable Handle.
External Microphone Holder.
HDMI, USB, Component, Composite Video Out.
Dimensions of 5.1 x 7 x 8-inches.
Weighs approximately 1.7 lb.
Canon XA10 Price and Extras
The Canon XA10 is priced at $1,299 for its camcorder-only configuration. A Master Starter Kit is available for $1,499, providing a shoot-ready configuration. This kit includes two 64GB SDXC cards, a USB 3 card reader, a large capacity battery and charger, a UV filter, an LCD hood, and a camcorder bag.
Whether a professional or a novice in the field, the Canon XA10 will surely satisfy any video-related needs. The XA10's exquisite video quality and impressive features, like its versatile zoom, significant storage capacity, and dual XLR inputs, makes it an excellent — and affordable — camera that should not be overlooked. Share your thoughts on whether or not the Canon XA10 is the right choice for you!