The Canon EOS Rebel T2i introduced a revamped version of its predecessor, the flagship Rebel T1i of Canon's line of entry-level DSLRs. Although it offers up a strong resemblance in terms of physical elements, the T2i provides a definite bump up in terms of features and performance. With tempting image quality, video versatility, and a decent price point, it's no surprise that this camera has been popular from the start. Stick around for our Canon T2i review to learn more about the camera's specs, build, and performance.
Canon T2i Specs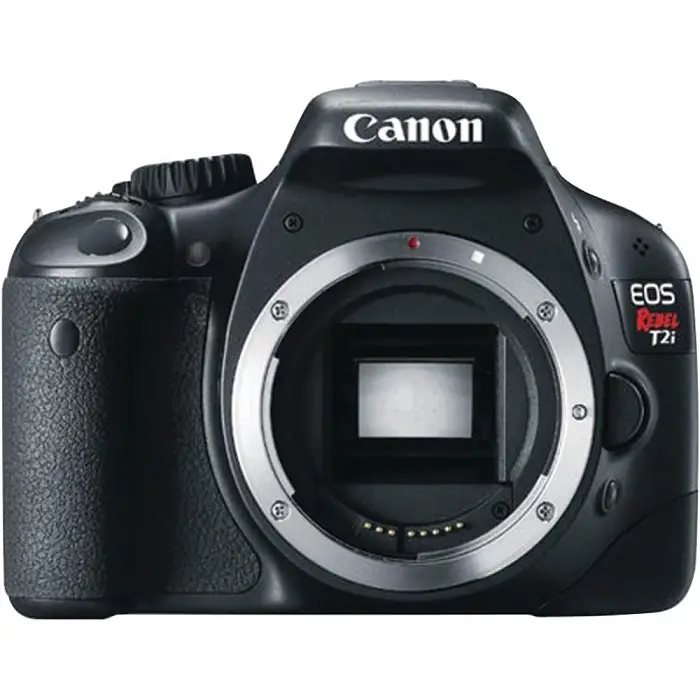 18.0MP APS-C CMOS Sensor.
DIGIC 4 Image Processor.
Full HD 1080p Video Recording at 30 frames per second.
3.0-inch 1.04m-Dot Clear View LCD Monitor with 100% Screen Coverage.
Pentamirror Viewfinder with 95% Frame Coverage.
9-Point Autofocus System with 63-Zone Metering.
Full Resolution Continuous Shooting at 3.7 frames per second.
Auto ISO Range of 100-6400 (Expandable to 12800).
Eye-Fi Menu Status Indicator Support.
SD / SDHC / SDXC Memory Card Compatibility.
Dimensions of 5.1 by 3.8 by 3.0 inches.
Weighs 18.7 ounces.
Canon T2i Features and Performance
Build and Buttons
Kicking off our Canon T2i review, we're going to give a brief rundown of the camera's physical composition. The body is constructed out of a lightweight but strong polycarbonate resin layered over a stainless steel chassis. Grips featured include a large rubberized handgrip and thumb rest on the back. The construction is definitely stable but it doesn't match the more rugged body of other higher-end models. That being said, many photographers will appreciate the light weight of the T2i since it's easier to travel with and shoot while on the go.
In terms of physical controls, the top of the T2i includes the power switch, shutter button, ISO button, and shutter and jog wheel. Featured on the front are the release button, lens mount, red-eye/self-timer lamp, and the depth-of-field preview button.
Besides the LCD monitor and viewfinder, the highlights on the back mainly consist of a four-way keypad with a center button and buttons for exposure compensation, menu, display, playback, and delete. Also present on the back is the Q key, which provides a shortcut for making adjustments to the main settings via the jog wheel. Overall, the T2i's external controls, buttons and dials alike, are laid out nicely and avoid being too overwhelming even for the greenest photographer.
Display and Functions
Continuing our Canon T2i review, let's check out the display options. The T2i is equipped with a 3.0-inch 1.04m-Dot Clear View LCD monitor with 100-percent screen coverage. Also provided is a 160-degree viewing angle with a 3:2 aspect ratio. Shooting with the monitor is a nice option since it offers up such a crisp view.
With seven levels of brightness it's easy to accommodate a number of conditions. That being said, you will likely need to turn up the brightness all the way in order to best see in direct sunlight. Even still, outdoor capture can be a bit difficult especially when shooting videos and attempting to keep an eye on the focus.
Also featured on the T2i is a pentamirror viewfinder with 95-percent frame coverage. The only downside here is the lack of complete coverage, but otherwise this viewfinder is a pleasure to use. It maintains a good level of brightness with a large view. Easy-to-read data displays within the viewfinder as well.
The focusing screen uses a circle to show the spot metering location, while the autofocus areas are shown by a small LED dot in the center of the autofocus point rectangle. Another highlight of this viewfinder is the provided diopter adjustment feature.
Sensor, Resolution, and Autofocus
The T2i is equipped with an 18.0MP APS-C CMOS sensor and DIGIC 4 image processor. Image quality is solid with an excellent amount of detail. Accurate color is captured in nearly each and every photo. In terms of speed, the T2i performs incredibly well. For instance, go from powering on to shooting at a mere 1.38-seconds. Shoot full resolution images at up to 3.7 frames per second — this speed falls a bit short for sports photographers but for casual users, it shouldn't be an issue.
In this Canon T2i review, we're also going to take a closer look at the included 9-point autofocus system. The autofocus is actually quite good. The camera focuses quickly and accurately in almost all lighting conditions, even in low light. However, one feature that the T2i lacks is the AF assist lamp, which many comparable models include. Also included is a 63-zone metering system that works nicely with the autofocus system to allow for the best image quality possible.
Noise performance of the T2i is perfectly usable for everyday shooting. The native ISO range is 100-6400 but an expandable range brings the high end up to 12800. Noise is controlled well throughout every point of the range. Usable images can be captured even at ISO 6400, although noise does tend to show at this level.
Video Capabilities and More

Before wrapping up this Canon T2i review, let's check out the camera's video capabilities. Easily capture high-quality videos with full HD 1080p recording at 30 frames per second. The T2i is a nice option for videographers, thanks to the additional features that allow for manual adjustment of aperture, shutter speed, and so much more. A built-in mono microphone picks up decent sound but also excess noise, such as the lens shifting. But for the more serious users out there, there is an external microphone input available.
Overall, the video quality is definitely solid. However, there are a few features that could benefit from some improvement. For instance, while you can use autofocus while recording, continuous autofocus is not an available option, so you need to manually trigger single autofocus operations as needed.
There is also a bit of an issue with distortion caused by the camera's rolling shutter from its CMOS sensor. This rolling shutter effect causes vertical objects to skew if either the camera or the subject moves too quickly — but this doesn't often affect video shot under normal circumstances. With this camera selling at such a low price point at this time, the T2i is truly a steal and can nicely suit the enthusiast user's everyday demands.
Pricing
The Canon T2i is available in five configurations: body only, priced at $259; the body with 18-55mm lens, priced at $279; the body with 18-55mm and 75-300 lenses, priced at $345; and the body with 18-55mm and 55-250mm lenses, priced at $450; and the body with 18-135mm lens, priced at $550.
Verdict
Overall, you have seen from this Canon T2i review that this camera is a solid choice, especially when you consider the dramatic drop in price on the market today. The camera's speed, performance, image quality, and so much more make it worth every cent. For a mid-range camera of this caliber, it's hard to pass up. Thanks for checking out our Canon T2i review. What do you think about the T2i? Share your thoughts in our comment section below.