The Canon 60D is an 18.1 megapixels, entry level prosumer, digital single lens reflex (DSLR) camera launched in 2010. It has an improved battery life and a better sensor resolution compared to its predecessor Canon 50D. Packed with an excellent ISO performance, it has an average startup time and good mode switching times.
Keep reading Canon 60D review to know more about its specifications, performance, features, display and pricing.
Canon 60D Specs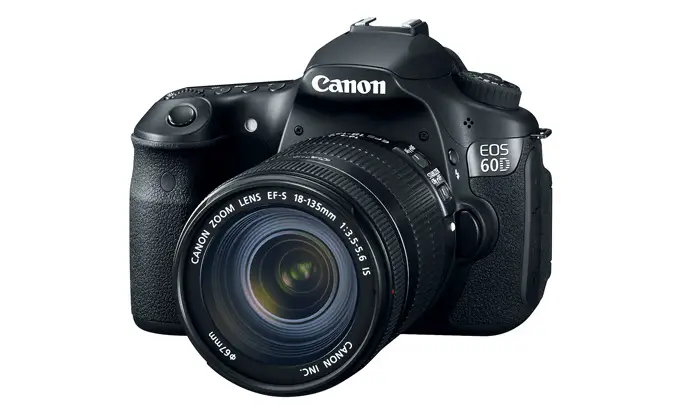 18.1 MP APS-C CMOS Sensor;
7.5x zoom for 18-135mm kit lens;
Native ISO: 100 to 6400;
Extended ISO: 100 to 12,800;
Shutter: 1/8000 – 30 seconds;
Dimensions: 145 x 106 x 79 mm;
Weight: 43.5 oz;
Viewfinder: 3.0 inch LCD;
Full HD movies;
Vari-angle LCD;
5.3 fps burst mode;
Memory types supported: SD / SDHC / SDXC.
Pros and Cons
Pros
Good 18 MP sensor with high ISO performance;
Vari-angle LCD useful for Live View and making videos;
18-135mm kit lens offers above average optical zoom range;
Full HD movies 30p/25p/24p.
Cons
Body not as sturdy as 50D;
AF works only when flash is turned on;
Auto exposure not very reliable in low light areas;
Continuous autofocus not available for Movie mode.
Canon 60D Features and Performance
The Canon 60D comes with a few nice surprises, some unexpected losses, and some incremental changes,as this Canon 60D review shows:
Build and Buttons
Those who thought the 50D was bulky will feel comfortable with 60D's reduced weight and smaller size. The camera's compactly packed body is water and dust resistant. The indentations and smaller grip improve your hold. There's also a remote control window on one of the indentations. The upper right corner of the lens mount has four holes for the new microphone.
A stereo microphone can also be plugged in for better movie recording. There's a button to lock/unlock the mode dial. The swivel mechanism of the Vari-angle LCD screen is smooth to use and offers resistance enough to hold it at one position. The Quick Control dial is useful for selecting from the 9 AF points. It also has a multicontroller and a Set button. The Power button is now beneath the Control button which assists in avoiding accidental change of mode.
Display and Functions
Quick Control button if they want to make changes to settings. The other functions for this mode are similar to the ones in 50D. The 60D's rear-panel LCD can be used as a viewfinder, using the camera's Live View mode. In the Playback mode can be used to cycle between display options which are available by using the DISP button.
Sensor, Resolution and Zoom
The Canon 60D has the same exposure system as in the company's other DSLR models. The dual layer auto exposure sensor splits the frame into 63 zones and the data obtained from these can be analyzed depending on the AE mode you are using. AE and AF modes are aligned which allows exposure data to associate with specific AF sensors and the region around them. The AE system also assimilates distance information from the autofocus mechanism to the exposure measuring process. The overall sensor size is unchanged compared to the 50D, with the focal length crop being 1.6x.
The Canon 60D's 18-35mm kit lens, offers a zoom range of ~7.5x. For the 18-200mm kit lens the optical zoom range is ~11.1x. As per our Canon 60D review, the Image Stabilized (IS) kit lens provides a better than average zoom ratio which makes it suitable for telephoto or low-light shooting as well.
The resolutions include 1920 x 1080p, 1280 x 720, and 640 x 480. There are two other resolutions available for raw shooting: mRaw and sRaw, 3888 x 2592 pixels and 2592 x 1728 pixels, respectively. The 18.1 megapixels camera adds to full movie HD capture. Also, the articulating screen of the SLR offers an aspect ratio of 3:2 and 1,040,000 dots.
Video Capabilities
Both aperture and shutter of the Canon 60D are available for manual control (as well as Auto mode), giving the user a total hold on the audio and video parts of a movie. The CMOS sensors can record videos with a 16:9 aspect ratio and at a maximum 1920 x 1088 pixels. Individual movie clips are limited to 29 min and 59 sec.
The file format for recorded movies is .MOV and they use MPEG-4 AVC or H.264 compression. The camera also offers an autofocusing in while video recording but only in the single servo mode. The user can also enable or disable functions to set auto lightning and tone of the video.
Pricing
This Canon 60D review will also take a look at the price of this camera with and without the lens. The body of Canon 60D comes at a price of $779.99. If the buyer purchases an 18-135mm lens, the total cost of the camera would cost $1415. A Canon 50mm f/1.8 STM lens costs about $125, making the entire cost of the camera and lens at $905.
Verdict
The Canon 60D is great for taking pictures and videos and works wonders in low light. Pictures taken at ISO 400 and ISO 800 come out good in print and that's quite impressive. For an amateur photographer, this camera makes it easy to click pictures from odd angles (thanks to its swivel LCD screen). The quality of movie clips and improved resolution make it fun to shoot with and no wonder these fetch the camera some really good points. This Canon 60D review awards the camera 4,5 points out of 5.