Bridge cameras are becoming more and more popular not only for their market value but mostly for their DSLR-esque features. We have put together a best bridge camera list to help you choose the one that matches your photographic needs, budget, and experience level best. Find out what your options and deals are in 2015, as well as the aspects you need to consider when buying a bridge camera.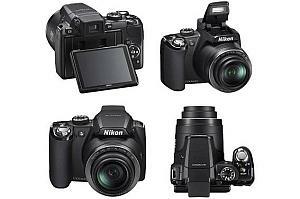 Before listing our top-rated choices, we recommend taking a look at our short introduction to bridge camera features as compared to a professional camera. Buying smart is all about making informed decision.
What Is a Bridge Camera in Photography?
The definition of bridge cameras lies in their name. They "bridge" the path between the simple point-and-shoot cameras and the more advanced DSLRs. They are the ideal choice for those who have overgrown the limitations of a standard compact camera but are not ready just yet to deal with the superior features of a DSLR or of a mirrorless camera.
Bridge Cameras vs. Digital Single-Lens Reflex Cameras
A bridge camera is also called a superzoom as it provides users with the opportunity to shoot at very long distances with high accuracy. This type of digital camera has a broad range of advanced functions allowing to manually set aperture values, shutter speeds and light sensitivity levels (ISO). Some even benefit of high-speed lenses that make them work well in low light conditions.
Superzoom cameras can compete with a DSLR camera in terms of performance and image quality, but there are also less bright aspects to take into consideration.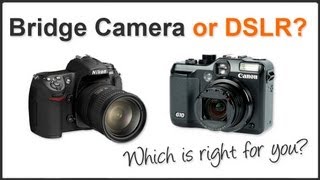 In comparison to a bridge camera, a DSLR has a better optical sensor, interchangeable lenses, a better performance in low light settings, and more advanced zoom and macro capabilities. However, all enhancements come with a price, which not many photo enthusiasts afford paying. With bridge cameras, there's no need for extra lens and extra space in the bag.
The golden rule when buying a bridge camera is to choose the one that best suits your experience level. If you don't feel ready to handle an SLR or you are limited by a smaller budget, bridge cameras are your best options. We are sure that some of the superzoom camera choices listed below will tickle your fancy.
Our Nikon Bridge Camera Choice: Nikon CoolPix P610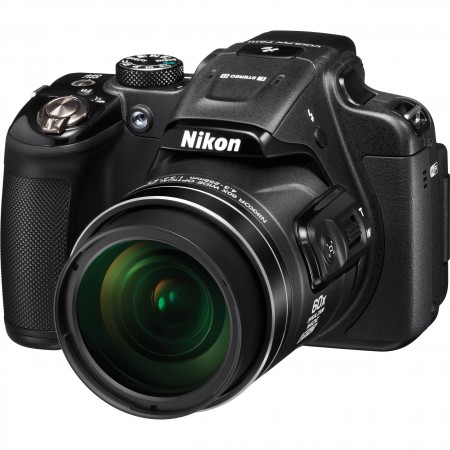 Key-Features: with its ultra-powerful optical zoom, high-resolution Viewfinder, a built-in Wi-fi for sharing photos to your smartphone or tablet, dual viewing systems, full manual control, and special effects, Nikon CoolPix P610 is almost unbeatable on the bridge camera market. Update: as a matter of fact, it was voted as the Best Superzoom Camera of the year by TIPA (The Technical Image Press Association) editors.
Optical Zoom Range: 60x (digital zoom of 2x + combined zoom of 260x)
Resolution: 16.0 Megapixels
Continuous Shooting Rate (max.): 6.4 fps
Price as for Oct 2015: $403.55 -$499.95
Best Bridge Camera for taking photos from difficult angles due to its swiveling vari-angle LCD.
Premier Alternatives: Nikon CoolPix L820 or L810, which are both cheaper. If you are looking for a more SLR-styled bridge camera, Nikon CoolPix P900 can be your Nikon top option.
Our Canon Bridge Camera Choice: Canon PowerShot SX50 HS (16mp)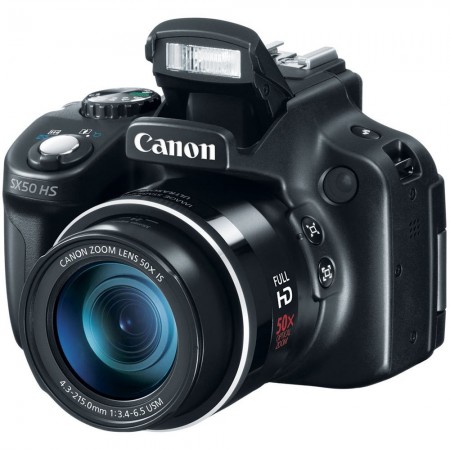 Key-Features: Canon PowerShot SX50 HS is Canon's latest bridge camera model boasting impressive features such as a wide focal length (24mm), full manual controls, massive zooming lens, and RAW shooting capabilities. Plus, it comes with an electronic viewfinder, a fully articulated 3-inch LCD, and a hot shoe for a more powerful flash. However, its lens is not suitable for shooting in low light and by increasing the ISO you will reduce the image quality.
Optical zoom range: 65x
Resolution: 16.1 Megapixels
Continuous Shooting Rate (max.): 6.4 fps
Maximum Aperture: f/3.4 (Aperture Range: F3.4 – F.5)
Price as for Oct 2015: $479
Top Tip: For $517 you can buy this digital camera kitted with a 32GB Card, case, flash, battery, and tripods.
Best bridge camera for travel photography due to its features, compactness, and versatility. It is also effective for video recording at wide-angle focal lengths.  
Premier Alternative: Canon Powershot SX60 HS (smaller ultra-zoom camera), Canon G3 X (it has impressive features, but it is more expensive).
Our Panasonic Bridge Camera Choice: Panasonic Lumix DMC-FZ1000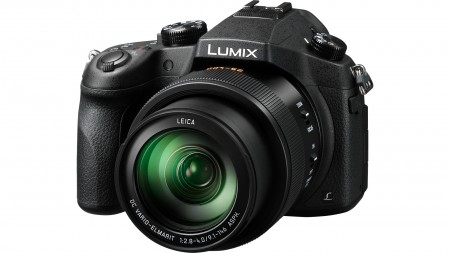 Key-Features: this bridge camera has pretty much everything a hobbyist photographer needs: an effective resolution, a large maximum aperture opening at f/2.8, and advanced autofocus. Its large sensor (1-inch) and Optical Image Stabilizer are ideal for shooting at night. However, there are a few down points to consider such a non-touch-sensitive screen, and a low optical zoom for a camera of this type.
Optical zoom: 16x (digital zoom of 4x)
Resolution: 16.0 Megapixels
Continuous Shooting Rate (max.): 12 fps
Maximum Aperture: f/2.8
Price as for Oct 2015: $597
Best Bridge Camera for creating shallow depth of field effects in low light.
Premier Alternatives: Panasonic Lumix DMC-FZ200, Panasonic Lumix DMC-LZ20, Panasonic Lumix DMC-FZ72
Our Sony Bridge Camera Choice: Sony DSC-RX10 II Cyber-shot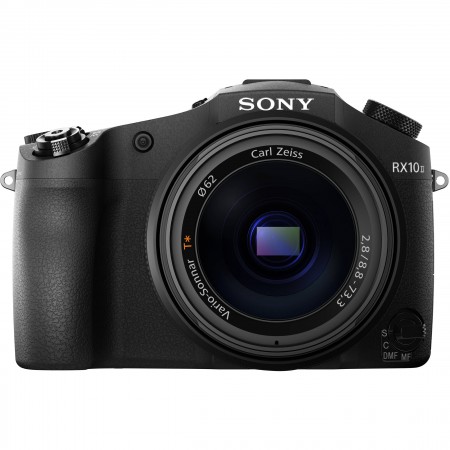 Key-Features: with its pioneering features such as manual exposure control, various flash modes (Auto, Slow Shutter, High Speed Sync, Flash Override, Fill), wide maximum aperture, 24-200 mm equivalent lens, and CMOS optical sensor resolution, this is bridge camera brings massive improvements in terms of image quality and performance as compared to its competitors. You can see it in the price.
Optical zoom range: 50x
Resolution: 16.0 Megapixels
Maximum Aperture: f/2.8
Continuous Shooting Rate (max.): 14 fps
Price as for Oct 2015: $1,298
Best Bridge Camera for high-resolution video recording. 
Best Alternative: there are other Sony bridge cameras that deserve your attention such as Sony RX10 II. This more pricey option is suitable for expert purposes. For a less sophisticated and cheap device, you can go for Sony HX400V.
Our Fujifilm Bridge Camera Choice: Fujifilm FinePix S1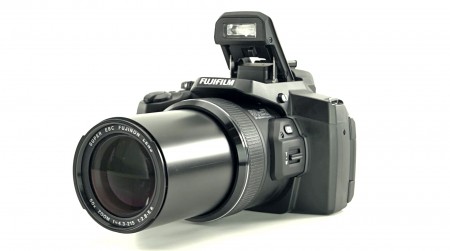 Key-Features: Released in March 2014, this superzoom camera performs well against most of its competitors. It has a 3-inch vari-angle LCD screen, Wi-fi connectivity, Full HD movie capture, RAW shooting capability, advanced autofocus technology, and a CMOS sensor that boosts image and video quality. For its price, it is definitely one the best-buy bridge cameras you can find today. It is not the best in terms of exposure accuracy, but definitely the best built. Fujifilm FinePix S1 is the only weather-sealed superzoom camera available on the market.
Optical zoom: 50x (24-1200mm equivalent)
Resolution: 16.2 Megapixels
Continuous Shooting Rate (max.): 10 fps
Maximum Aperture: f/2.8
Price as for Oct 2015: $264-$399
Best Bridge Camera for photo shootings in harsh weather conditions. 
Premier Alternatives: Fujifilm FinePix S820 is one the Nikon's bridge cameras that compete with Nikon CoolPix L820. Another good choice would be Fujifilm FinePix HS50 EXR.
Our Pentax Bridge Cameras Choice: Pentax XG-1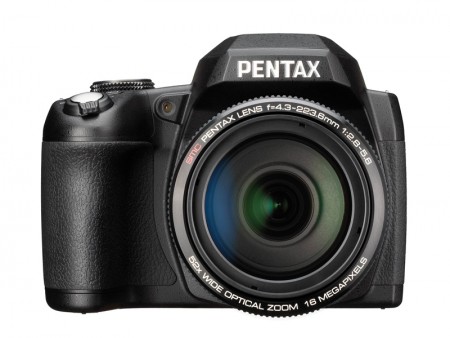 Key-Features: for the price you pay, this is a remarkable, all-purpose bridge camera. It has a powerful optical zoom, a large 3 inch LCD screen, and also exhibits advanced features such as an electronic viewfinder, 13 scene modes, and a pet detection mode.  It allows Full HD video recording, it has a back-illuminated CMOS sensor, and high sensitivity characteristics which optimize image quality. It also comes with a 1cm Macro Mode capable to cover wide angles to super-telephoto ranges.
Optical zoom: 52x
Resolution: 16.0 Megapixels
Continuous Shooting Rate (max.): 12fps
Price as for Oct 2015: $179.99
Best Bridge Camera for beginners who are ready to take a step further from simple compact cameras. 
Premier Alternatives: Pentax X5.
Hope you enjoyed reading our short but informative bridge camera reviews. For further options, we recommend checking out this best bridge cameras 2014 selection on Gizmag.