Nikon broke the mold with the release of its mid-priced full-frame camera, the D600. Aimed at both intermediate users and professionals, as you'll see in our Nikon D600 review, this unit offers up the perfect balance between functionality and accessibility with a price that won't bleed you dry compared to the competition. For more information on the camera's specs, features, and performance, stick around for our Nikon D600 review.
Nikon D600 Specs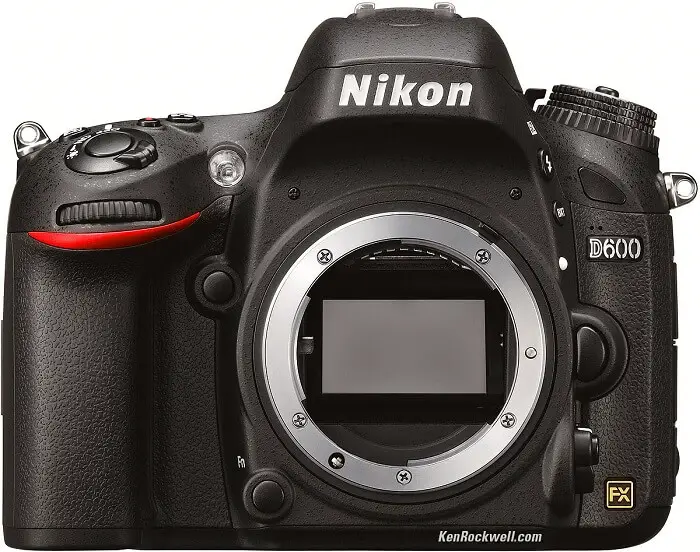 24.3MP FX-Format CMOS Sensor.
EXPEED 3 Image Processor.
3.2-inch 921k-Dot LCD Monitor with 100% Screen Coverage.
Pentaprism Viewfinder with 0.70x Magnification and 100% Screen Coverage.
Full HD 1080p Video Recording at 30 frames per second.
Multi-CAM 4800 39-Point Autofocus Sensor.
Full Resolution Continuous Shooting at 5.5 frames per second.
ISO Range of 100-6400 (Auto) / 50-25600 (Extended).
Built-in Flash.
External Microphone Input.
Wi-Fi Capability with WU-1b Wireless Mobile Adapter.
SD / SDHC / SDXC Memory Card Compatibility.
Dimensions of 5.6 by 4.4 by 3.2 inches.
 Weighs 26.8 ounces.
Nikon D600 Features and Performance
Build and Buttons
Let's start off this Nikon D600 review by taking a closer look at the camera's design. The body features a lightweight magnesium-alloy shell that fits comfortably in the hand while still maintaining a deep handgrip for a secure hold. This unit is perfect for users who prefer having the option of shooting outdoors year-round, as the camera's construction is both weatherproof and dust-resistant.
The standard controls are included on the D600. The front of the camera includes two programmable buttons, bracketing control button, focus mode switch button, and the flash popup/flash compensation button. On the top left, you'll find an exposure mode dial sitting atop a shooting mode dial, both of which are lockable. On the top right sit the shutter release, power switch, status LCD, exposure compensation button, metering mode button, and movie record button.
The back of the camera features a set of buttons to the left of the LCD screen, including menu, picture controls, image quality, white balance, and ISO; to the right of the LCD screen, you'll find a four-way directional pad for navigating through the menu screen. Below the directional pad is a switch for selecting still or video capture, surrounding the Live View activation switch.
Display and Functions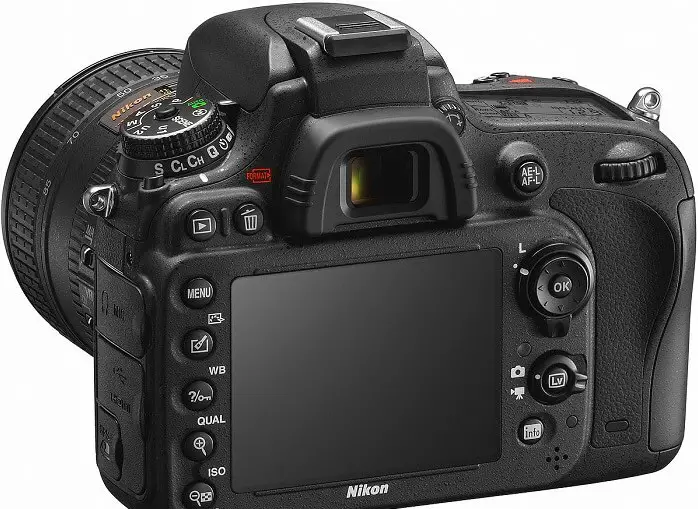 The Nikon D600 features a 3.2-inch 921k-Dot LCD monitor with 100-percent screen coverage. With good visibility even under bright sunlight, the LCD is a pleasure to use both indoors and outdoors. If visibility presents a problem, the monitor's brightness sensor will likely remedy itself; if not, you can adjust the brightness via the menu screen. The only downside of this LCD monitor is that it does not tilt or articulate whatsoever, which results in complex positioning when shooting from awkward angles.
As for the D600's viewfinder, it is a pentaprism with 0.70x magnification and 100-percent screen coverage. If you are used to shooting on a DX camera, you are surely in for a treat with this full-frame unit. This viewfinder is extremely impressive in terms of size, clarity, and brightness. With such a large viewfinder, you will find it easy to frame and focus for nearly any shot. A useful feature offered is the overlay grid, which activates either a single or dual level within the viewfinder, utilizing exposure bars to aid in achieving that perfect shot.
Sensor, Resolution, and Autofocus
Equipped with a 24.3MP FX-Format CMOS sensor and an EXPEED 3 image processor, the Nikon D600 is capable of capturing the perfect shot each and every time. As is expected with full-frame cameras, the D600 maintains a natural sharpness and tonality in each image with bright, accurate colors. Note that you also have the option of utilizing DX lenses, thanks to the camera's 1.5x DX crop mode — unfortunately this mode lowers the resolution but it is still something to keep in mind. Continuous shooting speed at full resolution is a satisfying 5.5 frames per second.
The ISO ranges from 100 to 6400 but can be extended from 50 to 25600. Impressive images can be captured at nearly all ISO levels on this unit, including the extended range of 25600. Of course, this all depends on the lighting and overall shooting conditions, but the camera does a nice job of dealing with shadows and maintaining clarity all-around.
Another major highlight of the Nikon D600 is its Multi-CAM 4800 39-point autofocus sensor, the performance of which is excellent. Although the autofocus truly shines while shooting in daylight or otherwise good lighting, it can hold its own in low light situations. In extremely dark conditions, it is harder for the autofocus system to lock onto a target — however, as long as you shoot near enough to your subject, the built-in AF-Assist light should help in such a situation.
Nine of the 39 autofocus points are cross-type, enabling improved efficiency while focusing whether the camera is in a portrait or landscape position. Note that while shooting in Live View, autofocus is considerably slower, as is the case with most comparable units.
Video and Wi-Fi Capabilities
We will wrap up this Nikon D600 review by exploring the video and Wi-Fi functionality that the camera offers. Shooting videos on this camera is a pleasure, thanks to the array of features provided. Video can be shot in both FX and DX modes with various options, including Full HD 1080p at 30 frames per second.
Quality is best in good lighting with accurate colors and little noise, but as expected, quality starts to drop in low light. The highlights of the D600's video capabilities include its uncompressed output to an external drive via HDMI, the ability to stream live to an external monitor, a headphone input, and an external microphone input. The camera's built-in microphone is mono only but is nevertheless sensitive, able to pick up sounds from quite far off.
Finally, a word about the Wi-Fi capabilities of the Nikon D600 — unfortunately the Wi-Fi for this camera is not built-in. However, wireless image transfer can still be achieved with the help of the WU-1b wireless mobile adapter that is available separately for purchase.
Pricing
The Nikon D600 is available in four configurations: the body only, priced at $1,695; the body with a 24-85mm lens, priced at $2,199; the body with a 28-300mm lens, priced at $2,569; and the body with both a 24-85mm and 70-300mm lens, priced at $2,669.
Verdict
As you have seen throughout our Nikon D600 review, this unit is quite a compelling option for both the enthusiast and the professional user. With its exquisite image quality, stellar everyday performance, and perfect-sized footprint, the D600 will not disappoint.
Although not an inexpensive camera by any means, if you don't have the budget for the more expensive D610, this camera can deliver it all.