An exceptional digital camcorder that broke the mold upon its release, the Canon VIXIA HF R500 offers top-shelf video quality in Full HD. This camcorder offers a stunning 57x Advanced Zoom, allowing for complete flexibility with its various shooting capabilities. Performing effortlessly in a number of conditions, the VIXIA HF R500 is a great option for a videographer at any level. Let's take a peek at some of the features, pros, cons, and specs of the Canon VIXIA HF R500 and find out whether it's the one for you.
Canon VIXIA HF R500 Review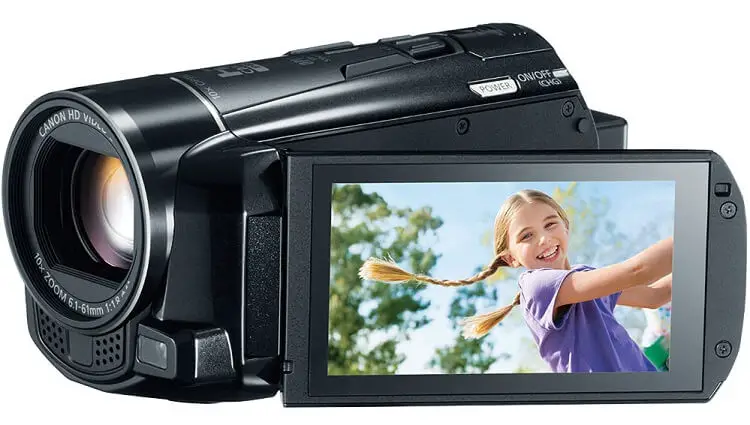 Constructed in a solid but overall basic fashion that feels nice to hold, the Canon VIXIA HF R500 is quite user-friendly, having few controls on the body itself. There are only three buttons, a zoom slider, and a switch for manual control of the lens. The power and playback buttons are located on the camcorder's exposed side when the screen is open, and the record button can be found on the back. Particularly good for tripod users is the location of the SD card slot, which is featured on the side of the camcorder rather than on the bottom. Also located on the side are the HDMI, AV out, and the mini-AB USB port. A rechargeable lithium-ion battery powers the VIXIA HF R500, allowing for extended shooting. This high capacity battery features intelligent technology that accurately counts down remaining battery life to the exact minute, ensuring that you'll never miss a shot.
In lieu of numerous physical controls, the VIXIA HF R500 goes all out with the touchscreen, featuring a 3-inch, 230k-dot capacitive LCD touch panel monitor, making shooting and all other functions a dream. The touch panel is capable of an almost 360-degree swivel, and even flips so that the monitor can be displayed on the side of the camcorder. With a crisp display, the touch panel needs only a simple touch to activate intuitive functions — select a focal point, track targets on the move, control exposure for desired areas, and operate camcorder controls.
On the menu screen sits the Home button, which provides quick access to all functions. Be confident in your choice of shooting mode and recording format, thanks to the pop-up explanations available for each option.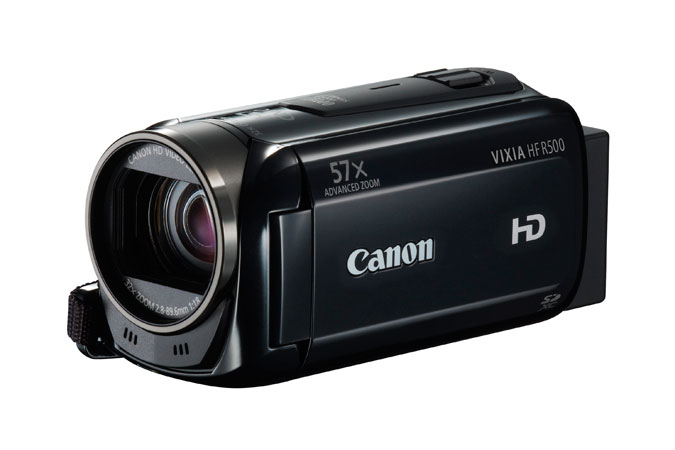 Equipped with a 3.28MP Full HD CMOS Sensor, the Canon VIXIA HF R500 effortlessly captures video in true 1920 x 1080 resolution. Stunning lifelike footage with accurate colors even in low light is made possible by the advanced sensor, while on-chip noise reduction brings clarity to each frame. Utilizing the DIGIC DV 4 image processor allows for all-around incredible performance. Because the VIXIA HF R500 lacks internal memory, simultaneous dual-format recording isn't available. Choose from either MP4 at a bit rate of 35Mbps or AVCHD at 28Mbps, both of which result in high-quality video. Although AVCHD ultimately provides the best quality, MP4 videos are easier to upload and edit — either option is a solid choice depending on the situation.
A nice improvement from its predecessors, the Canon VIXIA HF R500 has an incredible 57x Advanced Zoom range, providing users with a closer look at the action with less degradation of video quality. The optical zoom, however, maxes out at 32x, so keep in mind that the best possible quality and stabilization will be found at 32x or less.
Canon's Intelligent IS system works with the Advanced Zoom to dispel as much camera shake as possible. Four IS systems are provided to cover various shooting conditions. Dynamic IS provides continuous adjustments to control rotational camera shake caused by shooting while on the move. Macro IS provides steady close-ups. Powered IS corrects movement that may occur when using the Advanced Zoom. Finally, Tripod Mode stops IS when the camcorder is stationary. The Intelligent IS works to provide smooth, distortion-free video, regardless of the conditions.
Another highlight featured within the VIXIA HF R500's system is Canon's Face Detection technology, the same type used in their digital cameras. Crisp focus and accurate exposure are maintained by automatically tracking up to 35 faces; nine detection frames can be displayed at once. The Face Detection system is so intuitive that it can easily recognize faces turned sideways or downward. Any particular face can be selected as the main subject of a recording and will then be tracked continuously. Activating this enables the user to search for specific clips featuring that subject's face.
The last feature of the Canon VIXIA HF R500 that deserves a special mention is Baby Mode. Available for as many as three children, Baby Mode makes it so that none of those memorable moments are ever forgotten. With the pre-record function always on standby, the camcorder includes the last three seconds of footage prior to the user pressing the record button, working effortlessly to capture it all. Recordings in Baby Mode are saved to a dedicated Baby Album, keeping them separate from all other footage. View the Baby Album chronologically to share and revisit your baby's growth. Touch Decoration is also available, including stamps to mark footage with the baby's current height and weight. Add in customizable captions, animations, drawings, and more, to make each video your own.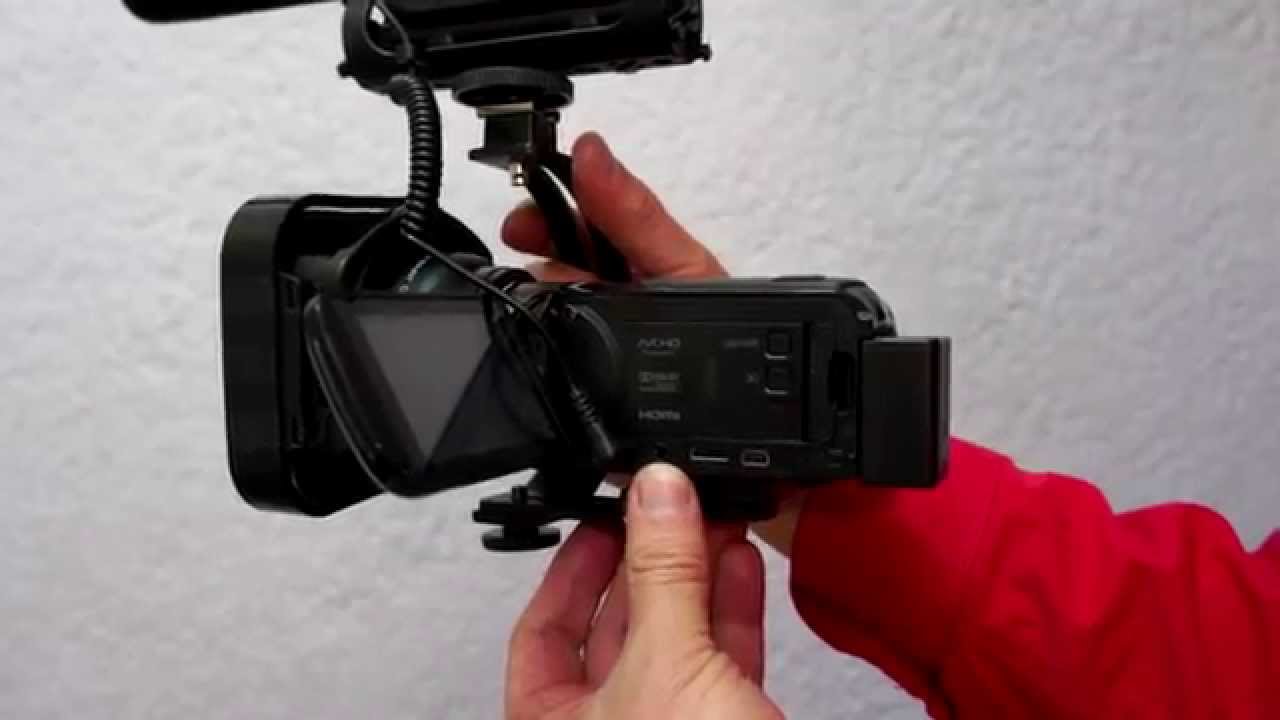 Canon VIXIA HF R500 Specs
• 3.28MP Full HD CMOS Sensor.
• DIGIC DV 4 Image Processor.
• 1920 x 1080/60p HD Video.
• 57x Advanced Zoom.
• SuperRange Optical Image Stabilization.
• Intelligent IS with Four Shooting Modes.
• Smart AUTO & Audio Scene Select.
• Advanced Baby Mode.
• Canon Face Detection.
• Supports AVCHD & MP4 Recording Formats.
• Capacitive 3-inch, 230k-dot LCD Touch Panel Display.
• SD / SDHC / SDXC Memory Cards.
• Rechargeable High Capacity Lithium-Ion Battery.
• Built-in Microphone and Speaker.
• External Microphone Input and Headphone Jack.
• Dimensions of 2.1 x 2.2 x 4.6-inch.
• Weighs approximately 8.3 oz.
Canon VIXIA HF R500 Price and Extras
The Canon VIXIA HF R500 is priced at approximately $240. This shoot-ready configuration includes the camcorder itself, BP-718 battery pack, compact power adapter, USB interface cable, and mini HDMI cable.
The compact size of the Canon VIXIA HF R500 makes it perfect for travel but doesn't limit it to just that. An intuitive powerhouse, the VIXIA HF R500 allows less experienced videographers to create professional-looking content. Being able to tailor the audio and video with the built-in Scene Modes makes shooting a breeze, regardless of the surroundings. Leave us a comment and share your thoughts on the Canon VIXIA HF R500!