In an industry that demands ever-increasing standards for image quality, features, and camera design, Canon's premier model of the Cinema EOS line — the C300 — needed to be groundbreaking; it did not disappoint. Targeted at a broad range of videographers, the Canon C300's hope was to tempt DSLR filmmakers in crossing over to a true digital motion picture camera. For those looking for a dedicated video camera that delivers the highest quality combined with incredible ease of use, the search is over. Check out the features, pros, cons, and specs to see if the Canon C300 is the one for you.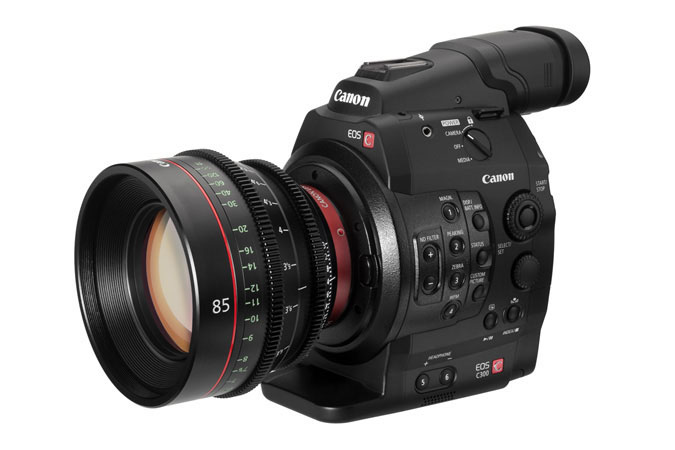 Canon C300 EOS Review
The Canon C300's overall reputation as a true professional motion picture camera stems not only from its performance but its intuitive design as well. One might take a look at the body and be turned off by the maze of buttons — but the set-up is maintained for ease of use and the customization offered allows enough options to keep all users happy. The buttons and dials, most on the left side of the camera, work to adjust the lens aperture, magnify the view to confirm critical focus, and control the multi-step neutral density filter. Control over ISO, shutter speed and exposure is easily maintained. Additional controls are on the back of the camera, including a function button that toggles between ISO, shutter, and aperture adjustments, and a monochrome rear information panel. Many of the I/O ports are on the back as well, including Sync Out, Time Code, Genlock, and HD/SD SDI for broadcast environments, a remote control port, an HDMI output for an external recorder, connections for the external LCD unit, a headphone jack, an SD slot for firmware updates, and the DC power input.
Consisting of an uncommon shape, the body of the Canon C300 is unusually tall, rather than long, as is typical of most video cameras. The body alone feels lighter in the hand than one would expect, the bulk of the weight coming once the LCD unit, handle, lens, and grip are attached. This particular shape that the Canon C300 takes on allows for portability and is easy to customize based on the desire of the user. A removable handgrip adheres to the right side of the camera and helps to balance the body, allowing for maximum security. An attachable handle mounts to the top of the camera, to the front or top of which the 4-inch rotating external LCD unit is then attached. The LCD unit is complete with full controls, grip, and thumb rest. Also included are two XLR inputs and the mount for a shotgun microphone, which is particularly important since a built-in microphone is not included.
A major highlight of the Canon C300 is its incredible image quality, beating out any DSLR in resolution and dynamic range. Utilizing an 8.3MP Super35 image sensor, the camera's low light capability is stunning, able to capture a remarkable amount of information within the shadows and highlights of an image. Sharpness with crisp, clean lines fills every frame. Due to the low pixel density, the camera allows for high ISO shooting while still maintaining a quality image. Further, the Canon C300 records video at up to 1080p30 resolution. Recording MPEG-2 footage to CF cards at 8-bit 4:2:2 quality with a 50Mbs bitrate makes the footage incredible enough for broadcast, and can easily be used for color grading and in combination with a green screen.
When it comes to focusing, the Canon C300 offers a simplified all-manual approach, aided by functions like magnification and peaking. These aids make it easy to focus, even when using a wide aperture lens. However, some users prefer autofocus — and while it functions as is to be expected, it does fall short when it comes to shooting in very dim light; in such cases, manual focus is the way to go. However, the Canon C300 does utilize dual-pixel AF, which marks the focus area on the Live View feed and allows for the smooth adjustment of focus based on changes within the scene.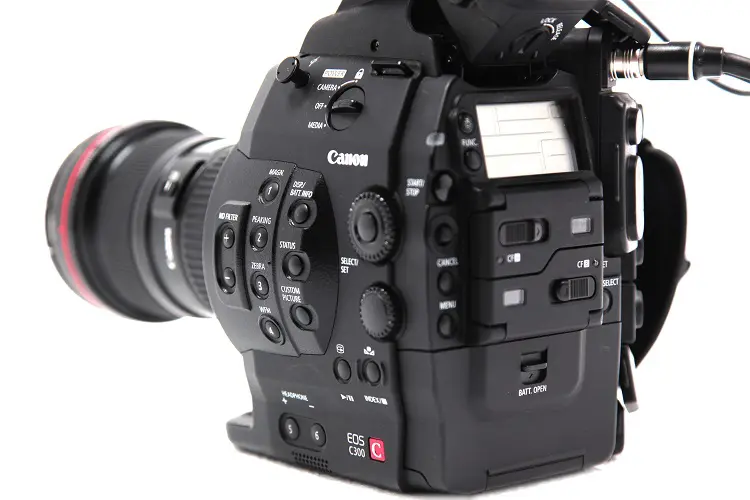 Overall, the Canon C300 really manages to kick things up a notch in terms of capturing video. An instant hit from its release, the Canon C300 has been used to shoot notable documentaries and independent films that have been screened at renowned film festivals like Sundance and Cannes. The camera also has the ability to compile footage in a way that is particularly conducive to post production. For instance, files are recorded using an MXF wrapper that combines video, audio, metadata, and timecode into a single package supported by major professional NLE programs. Some of the strain is taken out of post production with the Canon C300's Canon Log gamma mode, which allows the user to adjust the image, resulting in excellent tonal reproduction in the highlight and lowlight regions, and an expanded dynamic range.
Canon EOS C300 Specs
• 8.3MP 3840×2160 Super 35mm-Size CMOS Sensor.
• 1920×1080 60/50i, 23.98/25p, True 24p.
• Canon XF Codec – 4:2:2 50 Mb/s MPEG-2.
• DIGIC DV III Processor.
• Standard ISO Range 160 – 25600, Expandable to 100 – 102400.
• Exposure and Focus are Manual Only.
• Dual Pixel CMOS AF Hardware Upgrade.
• 4" Rotating LCD Unit.
• EF Lens Mount.
• Dual Compact Flash Card Slots.
• Canon Log Gamma.
• HD-SDI Output, XLR Inputs.
• Timecode I/O, Genlock In & Sync Out.
• Accepts BP-955 and BP-975 Batteries.
Canon C300 EOS Pricing and Extras
The Canon C300 is priced at $6,999 for the camera body-only version, and is available in two additional configurations. One configuration is the Z-Finder Recoil Kit, priced at $7,999, which includes the camera body, shoulder-mount rig, and VF Loupe. Slightly more pricey is the second configuration, which tops out at $8,299, and includes the camera body and 24-70mm zoom lens.
The Canon C300 is an incredible display of craftsmanship, and with its 4K capability, it's just too good to overlook. More affordable than the more extreme high-end motion picture cameras, the C300's quality, ease of use, and minimal footprint make it the perfect choice for indie filmmakers and professionals alike. Let us know what you think about the Canon C300!