One of the best professional telephoto zoom lenses out there for Canon's full-frame and APS-C DSLRs is their EF 100-400mm f/4.5-5.6L IS II USM. This Canon lens is unbeatable and all-around professional in every aspect – build, speed, autofocus, stabilization, image quality, and more.
Plus, the weather-sealing puts its predecessor to shame and makes it perfect for sports, nature, and wildlife photography. Take a peek at our Canon 100-400 II review for a closer look at this incredible lens and the amazing results that it can achieve.
Canon 100-400 II Specs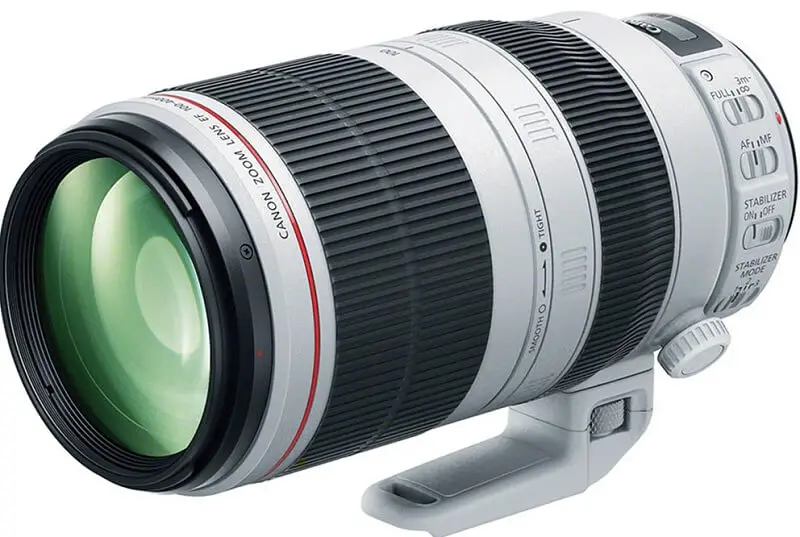 EF Mount L-Series Lens/Full-Frame Format.
Focal Length and Maximum Aperture of 100-400mm f/4.5-5.6.
Lens Construction of 21 Elements in 16 Groups.
Closest Focusing Distance of 3.2 feet.
One Fluorite and One Super UD Element.
Ring-Type USM AF Motor with Internal Focus.
Air Sphere and Fluorine Lens Coatings.
4-Stop Optical Image Stabilizer with 3 Modes.
Rotating Zoom Ring and Torque Adjustment.
Filter Size of 77mm diameter.
Rounded 9-Blade Diaphragm.
Rotation Zoom System.
Weather-Sealed Design.
Detachable, Rotatable Tripod Collar.
Weighs 3.5 pounds.
Canon 100-400 II General Information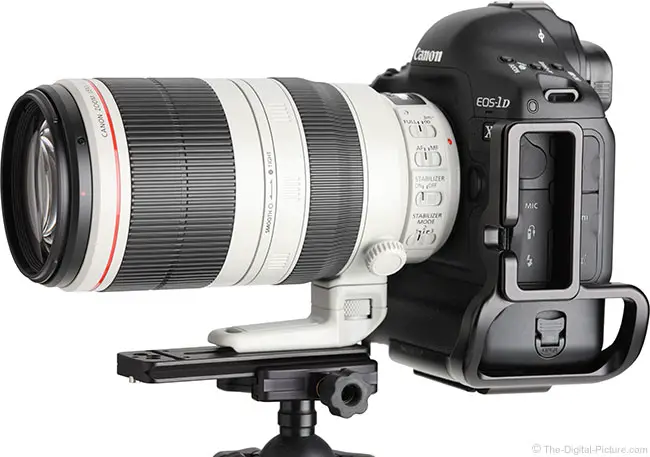 Lens Aspect
In this Canon 100-400 II review, we're going to first tackle the physical aspects of this extraordinary lens. Despite the vast reach provided by the 100-400mm, this lens is actually a reasonable size compared to some of its competition. It weighs in at approximately 3.5 pounds and supports 77mm front filters.
Although the lens is light enough to hold for extended shooting sessions, a removable tripod mount is included within the configuration. Users have the option to utilize this lens on a smaller APS-C body where it will provide a 35mm-equivalent focal length of 160-640mm — but note that the lack of balance could be an issue on this type of body when compared to use on a full-frame.
Included with the lens is a reversible lens hood with a retractable window that makes it easy to rotate filters without needing to remove the hood.
Lens Build
The build quality of the 100-400mm is extremely sturdy, feeling solid in the hand due to its all-metal body. The weather-resistant barrel protects the lens from moisture and dust, allowing for daily use in harsh weather conditions. Fluorine coating provides further protection against smudging and fingerprints on both the front and rear lens elements.
The front of the lens features a zoom ring, which is covered with a rubberized band for the perfect grip. Behind the zoom ring sits an adjustable tension ring with options ranging from "smooth" to "tight," depending on your particular shooting situation. Behind the tension ring sits a manual focus ring.
The base of the lens houses various controls — a focus limiter switch that helps to maximize the speed of the autofocus system and avoid hunting, an AF/MF toggle, a Stabilizer Mode switch, and an on/off switch for the four-stop image stabilization system.
Lens Performance
Stabilization
With the help of one Super UD element and one fluorite element to limit distortions and aberrations, the Canon 100-400mm II produces images featuring superb clarity, sharpness, and color accuracy. An Air Sphere Coating has been applied as well to reduce ghosting and lens flare.
Working to minimize camera shake is the four-stop image stabilization system that achieves great results even when shooting in dim lighting and with slower shutter speeds. The three image stabilization modes available include Standard, Panning, and During Exposure Only; these modes can be utilized in order to suit many types of shooting.
An Ultrasonic Motor (USM) powers the 100-400mm lens and results in a speedy, near-silent autofocus system in which manual focus adjustments can be seamlessly made at any time.
Focal Length
Whenever selecting a new lens, focal length range should be one of the most important elements taken into consideration. Since the focal length is what attributes to the precise framing and overall perspective of an image, the selection of a new lens is something that should not be done in haste. Thanks to the extraordinary range that begins at 100mm and goes all the way to 400mm, this lens has the capability to cover an incredible amount of ground.
Sharpness
Just to give an idea of overall performance, at 100mm, the sharpness of the image is excellent with peak performance across the frame occurring at f/5.6. Sharpness increases to even more extreme levels at 200mm with peak performance again occurring at f/5.6. Lastly, the lens performs very well even at 400mm with a good amount of sharpness; here, peak performance occurs at f/8.
Focus
In terms of performance, even when zoomed to 400mm, this lens can easily focus all the way down to 3.2 feet. Nature photographers especially enjoy this lens, thanks to its minimum focus distance at which the capture of images with 1:3 macro magnification is possible. While it is certainly true that the 100-400mm isn't exactly a substitute for a true 1:1 macro lens, it can in fact compete quite well.
Further, nine rounded diaphragm blades are included to provide a nice out-of-focus quality that allows for selective focus techniques, as well as the use of shallow depth of field.
What Type of Photography Does It Serve?
Overall, our verdict is this – as you have seen throughout our Canon 100-400 II review, this lens is an absolutely incredible one to have in your photography arsenal. The entire range of focal lengths provided is perfect for landscape and wildlife photography. Sports photography will also benefit from this lens, allowing users to continuously track an athlete from a distance. Superb portrait photography can be achieved as well. Given the nearly endless shooting situations that the 100-400mm is capable of capturing beautifully, if you have the means to invest in this lens, you are sure to be pleased with its amazing versatility.
Canon 100-400 II Price and Extras
The Canon EF 100-400mm f/4.5-5.6L IS II USM Lens is priced at $2049.00 but you may find better deals on other major stores as well.
The Verdict
We hope that this Canon 100-400 II review has given you a better idea of the kinds of results that this incredible lens is capable of achieving. Performance is never an issue, as the lens continues to live up to the best expectations. If you own a Canon and can afford the pretty penny this versatile lens costs, go for it – this is a purchase you will not regret.
Countless photographers have fiercely recommended this lens based on its generous focal length range alone. So, if you decide to get your hands on this extraordinary lens, come back to this Canon 100-400 II review and let us know what you think.