Diving is becoming an attractive way to spend holidays for many, especially the curious and adventurous types. A chance to explore underwater depths might be a once in a lifetime opportunity for some or even a regular hobby for others; as technology evolves, it becomes accessible to more and more people.
But the need to capture everything is also becoming an imperative in our lives recently, and so underwater photography has gone past being the domain of experts. There are a lot of means nowadays to take pictures underwater – even with smartphones, Apple offers specially designed impermeable cases for its IPhone.
Now, if you're not very passionate about photography, chances are that you haven't purchased your camera based on it being waterproof or not. Most digital SLR cameras nowadays are waterproof, and it's almost a must for so-called travel cameras. The problem is, frailer models might still be susceptible to underwater pressures at some depths.
You also might not want to trade your compact pocket digital camera that serves you so well in the rest of the time for a waterproof one, or might consider it too much of an expense. Well, one solution you might be looking for are waterproof camera cases. They are designed especially for underwater photography, and even though they might hinder functionality in some cases, it's probably the best and cheapest modality for you to use your point and shoot camera underwater.
Of course, there is some diversity between different cases what they can offer; below you have three different cases suited for compact cameras, so that you can start making an idea about what is the best waterproof camera case suited for your needs. As you will see, each has its pros and cons, so shopping for a waterproof camera case isn't really a neat process in which you acquire the first one you encounter.
DiCAPac WP-One Waterproof Camera Case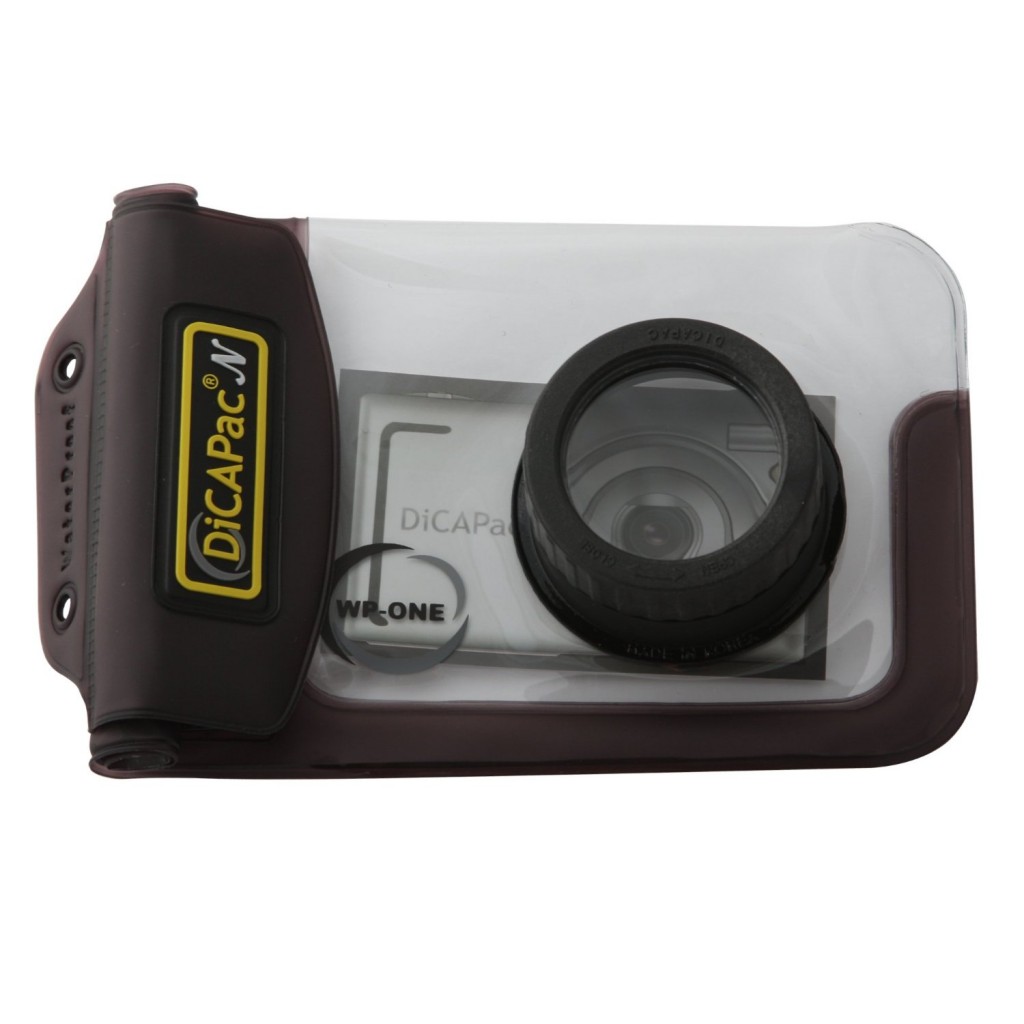 The DiCAPac WP-One is a somewhat universal case for point and shoot compact digital cameras; for example, it can fit most models from the Sony Cybershot DSC and the Canon Powershot ELPH series. Its body is very adaptable to different compact cameras, and, if you want to be sure that your camera will fit in it, there is a compatibility guide available on its product page. It comes including a lanyard and a special extension ring which can be used for cameras with zoom lenses.
This camera case is waterproof for depths up to 33 feet, having three layers of protection and a lens coated to stop the occurence of reflection glare. The main body itself is made of plastic and is easily flexible, making it easy to fit in even in crammed backpacks. It also floats on its own, bearing no need for a flotation device.
The case itself provides no drop in picture quality, and it also assures a maximum 5x. The problem is that it makes the screen way less visible, so it's going to be harder for you to judge the quality of a photo while taking it. It might also make it difficult to access certain buttons and switches, depending on its layout. However, the relatively cheap $40 price tag might convince you to overlook these flaws, if you really want to immortalize your diving experiences with a point and shoot camera.
Seashell SS-1 Waterproof Camera Case
The Seashell SS-1 is certainly more flashier in appearance than the previous one, but it also has more to offer, and probably fits a bigger range of compact cameras. The thick layers of heavy-duty plastic – which is fully impermeable at depths of up to 40 feet – are trimmed in some parts with a color of your choosing, with the waterproof camera case being available in orange, blue, purple or red.
The case itself is a two-piece clamshell-like cover, and it is designed in such a way to grasp the compact camera firmly; it's also designed to accomodate two top buttons. Neck and wrist straps are included in the package, and you can also use the metal tripod bush situated under the case to connect other accesories.
This waterprof camera case can fit compact cameras that measure up to 101x65x99 mm – namely, about three quarters of all such cameras; it can support cameras with about 5x zoom. But Panasonic users beware, you will not be able to operate their trademark slide switches, and generally all compact cameras with a longer digital zoom are probably not supported.
The fact that the case has only two buttons limits the functionality of the camera, meaning you'll have to rely on its automatic settings to make the best out of the conditions; if there is an underwater scene mode available, don't forget to select it beforehand. This is mostly due to the case trying to be as universal as it can for compact cameras, and especially if you have a model that doesn't have a custom case, the 170$ asking price is probably reasonable.
Aquapac Mini Afterproof Camera Case
The Aquapac case is a little bit different, in that it is not a two piece mechanism like its counterpart, but instead more like a small bag made out of polyurethane. This one is made for the smallest of pocket cameras, so it can only sustain depths of up to 12 feet. The plastic needs to be firmly pulled over the lens, so that there would no risk of focalizing on the bag.
The Mini Afterproof allows for quite clear pictures in these conditions, but it won't work for expandable lenses, as the camera will give an error when the lens hits the bag. So don't get any ideas about using any decent zoom with it.
At the same time, the plastic bag won't impede operating the camera buttons, so you don't have to worry about letting the camera handle picture setting with its automatic mode. If you have a small pocket camera and don't wish to invest into a waterproof one, then the Aquapac is a cheap and handy solution at about $30.
Of course, these are three models that try to be universal and fit most cameras of their sizes. It's not rare for manufacturers to offer specific cases for their camera lines – for example, Nikon has the WP-N waterproof cases for its Nikon 1 models. You should check if something like this exists for your camera model, as it will be specially designed so you can use all or most of its features; as you have seen from the three examples, universal models do tend to make using camera buttons or switches impossible.
If that's not the case, you'll have to make your choice out of universal designs, and basically see what type of setback affects you the least. There are a couple of waterproof camera case designs on the market, all offering different bodies, type of protection or being made from different materials. Of course, this also means that the price range varies quite a bit. You might want to check that your investment doesn't get past the threshold you'd pay for a waterproof camera, which would probably even shoot better in these conditions.