For years Pentax (now owned by Ricoh) has been the underdog within the DSLR world, never quite getting the recognition it deserves. Pentax's loyal following, however, has kept the brand going strong, as you will see in this Pentax K3 review. Packed with features and an autofocus system that is hard to beat, the K3 gives the major players, like Canon and Nikon, something to worry about. Stick around for our Pentax K3 review to learn more about the camera's specs, build, and performance.
Pentax K-3 Specs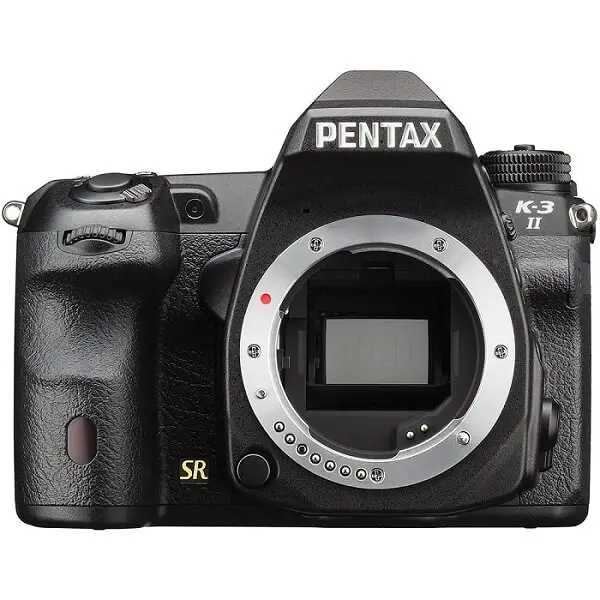 23.4MP APS-C CMOS Sensor;
PRIME III Image Processor;
3.2-inch 1,037k-Dot LCD Monitor with 100% Screen Coverage;
Pentaprism Viewfinder with 0.95x Magnification and 100% Coverage;
Full HD 1080i Video Recording at 60 frames per second;
SAFOX11 27-Point Autofocus System;
Full Resolution Continuous Shooting at 8.3 frames per second;
ISO Range of 100-51200 (Auto);
83k-Pixel RGB Sensor Exposure Metering;
In-Camera Shake Reduction Stabilization;
Wi-Fi Capability with Pentax SDHC "FluCard";
SD / SDHC / SDXC Memory Card Compatibility;
Dimensions of 5.2 by 3.9 by 3.1 inches;
Weighs 1.8 pounds.
Pentax K-3 Features and Performance
Build and Buttons
Let's start this Pentax K3 review by taking a look at the unit's build and physical controls. The K3's body features a metal chassis paired with a magnesium alloy body. With 92 weather seals scattered throughout, the Pentax K3 is resistant to cold, dust, and water, making it the perfect option especially for nature, wildlife, and sports photographers. If you want to capture winter scenes, no worries — the camera can operate at temperatures as low as -10 degrees Celsius. A bit on the heavier side, it's clear that the K3 was built to last. Due to the bulky weight of 1.8 pounds, one-handed shooting should be avoided for the safety of the camera. The large handgrip, however, does allow for maximum stability in the hand.
The Pentax K3's exterior features plenty of physical controls, enough to satisfy even the most demanding users. Featured on the top plate are the power switch and a locking mode dial. Integrated into the handgrip are various controls, like the shutter release, front control dial, depth of field preview, ISO button, and exposure compensation button. A monochrome information LCD displays active settings. On the back of the camera you'll find the image playback button, metering pattern button, Live View/Record button, autofocus button, autoexposure lock button, and the rear control dial. Some other highlights include a toggle that allows you to switch between still and video modes, the directional keypad, and the Green button, which works in conjunction with other controls.
Display and Functions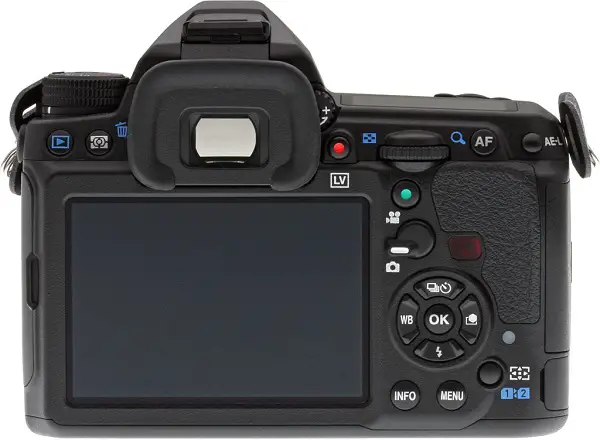 The Pentax K3 features a 3.2-inch 1,037k-Dot LCD monitor with 100-percent screen coverage. Although it doesn't offer up a tilting mechanism, the monitor is bright and provides an impressively sharp view. Further, the monitor's gapless design allows it to be easily visible even under harsh sunlight. The LCD displays a comprehensive list of information about the camera settings, including the shooting mode, flash mode, aperture or shutter speed, number of remaining frames, drive mode, and battery level. Settings can be adjusted directly from the screen, allowing for maximum ease of use.
The viewfinder on the K3 is a pentaprism with 0.95x magnification and 100-percent coverage — one of the best viewfinders found on comparable units. Complete scene coverage is a true highlight of this viewfinder, since it ensures that no unwanted excess will creep into the outer edge of the frame. The viewfinder provides a bright, clear view with no distortions, making it easy to lock on your subject through both manual and auto focusing. An in-finder status LCD runs along the bottom, displaying many of the camera's current settings.
Sensor, Resolution, and Autofocus
Equipped with a 23.4MP APS-C CMOS sensor and a PRIME III image processor, the Pentax K3 is capable of providing exquisite images. The camera's RAW files well exceed expectations with a solid amount of dynamic range at low ISOs and stunning noise performance at high ISOs. JPEGs don't compare to the RAW files but the camera's performance is nevertheless capable of standing up to the best of the best. The image processor allows for a quite impressive full resolution continuous shooting speed of 8.3 frames per second.
Excellent quality images are standard for the K3, as is speedy shooting — getting from start-up to the first shot takes under a second. The ISO ranges from 100 to 51200 and offers up some great performance. Although the best images are usually captured through ISO 400 to ISO 800, nice quality images can be captured even up to ISO 12800. Shooting great photos even at night is easy with the K3. The quick shutter speed and Bulb mode allows you to capture enough light in any condition.
Further, the Pentax K3 features a SAFOX11 27-point autofocus system — a system new to Pentax DSLRs. Out of the 27 points, 25 are cross-type. Although not as comprehensive as some of the other professional-level cameras out there, the K3 still provides impressive results. Other highlights of the K3 include the in-camera stabilization system and superb color performance.
Video and Wi-Fi Capabilities
Lastly, in this Pentax K3 review, we're going to take a look at the camera's video and Wi-Fi capabilities. The K3 is the first high-end Pentax unit to provide features specially dedicated to movie capture. Easily shoot Full HD 1080i video at 60 frames per second. Although this camera is certainly more advanced in the video department compared to previous Pentax models, serious videographers should look elsewhere.
That being said, casual videographers will be pleased with the addition of audio level control, a headphone jack for audio monitoring, and an external microphone input. Fast video autofocus is also a plus, as is the manual exposure feature that lets you control aperture, shutter speed, and ISO while recording. Sensor shift-based shake reduction works well to ensure steady video capture from start to finish.
The Pentax K3 unfortunately doesn't have built-in Wi-Fi — the saving grace here is Pentax's class of SDHC memory cards, known as the "FluCard." These special memory cards were designed specifically for the K3. Use of the FluCard allows the camera to connect to a smart device through an app or browser. Through this connection, you can remotely control the camera and transfer images.
Pricing
The Pentax K-3 is available in two configurations: the body only, priced at $850 and the body with 18-135mm WR lens, priced at $1,521.
Verdict
So, as you have learned throughout our Pentax K3 review, this camera is capable of producing some incredible images. Combined with the 27-point autofocus sensor, pentaprism viewfinder, and impressive ISO range, the K3 knocks it out of the park. As an enthusiast-level DSLR, the K3 is an excellent option that provides users with superior features, design, and performance. Thanks for checking out our Pentax K3 review — be sure to leave us a comment below to share your thoughts on this superior camera.