The Pentax K-50 is remarkably similar to its predecessor, the Pentax K-30. Two of its main key differences worth mentioning is its improved ISO range and Eye-Fi compatibility. This Pentax K-50 review is going to look at all the technical elements of the camera and attempt to offer a final verdict regarding its shooting capabilities. Some of the sections we will cover include the specs, overall build, and available functions.
Pentax K-50 Specs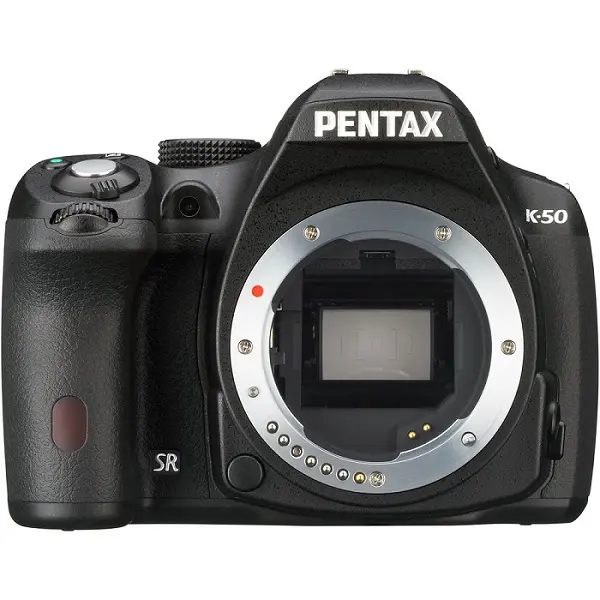 16 MP APS-C CMOS Sensor;
Weight with batteries: 1.43 pounds;
11 autofocus points;
Three-inch display;
Display type: Fixed;
410 photo battery life;
Eye-Fi card compatible;
Video quality up to 1080p;
Minimum shutter speed: 30 seconds;
Maximum shutter speed: 1/6000 of a second;
Image aspect ratio: 3:2;
ISO range: 100 to 51,600;
Weather seal count: 81.
Pentax K-50 Features and Performance
Build and Buttons
In this portion of our Pentax K-50 review, we are going to be discussing the overall handling and layout of the camera. With a weight over just under one and a half pounds with the battery installed, this camera falls in the smaller range for DSLR cameras. The back of the camera features a fairly simple display that utilizes radial menu buttons to navigate through various selections.
The menu navigation is fairly straightforward and doesn't require much in the way of learning to get adjusted to. You can move the cursor selection up, down, left, and right by using the keys to the right of the LCD display. To delete photos, the button is conveniently located on the opposite side in the top left-hand corner. There are also options for video playback, autofocus adjustment, and general information on the back as well.
On top of the camera, there is a large button that is used to snap pictures and begin video recording. There is also a switch that surrounds it for turning the unit on and off quickly. The top of the unit is also where you select your shooting mode using a dial system.
All in all, the buttons are well placed and the camera is very easy to handle. Users with larger hands may find that their middle and index fingers slightly overlapping on the front of the camera due to its small design. With its lightweight design, it is perfect for shooting during camping trips and other outdoor activities.
Display and Functions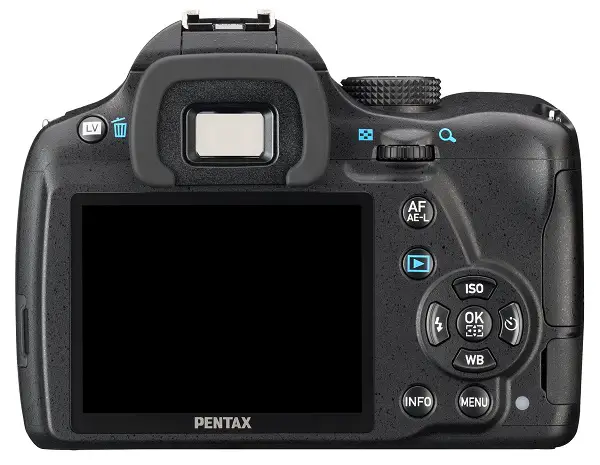 In this portion of our Pentax K-50 review, we are going to cover some the display and the menu functions. With a three-inch display that boasts 921,000 dot composition, it is more than sufficient for previewing photographs and videos while in the field or on the go. The display also supports 15 different levels of brightness making it an ideal choice for use in a variety of different lighting environments.
All of the functions that you navigate on the display are laid out in a fairly simple manner. Using the buttons on the right, you move the cursor to your desired selection and push the middle button to select. Deleting files is just as easy and you can quickly select multiple photographs for deletion with just a few button clicks.
Sensor, Resolution, and Zoom
We are going to be discussing the technical aspects of the sensor, resolution, and zoom in this portion of our Pentax K-50 review. The Pentax K-50 boasts a powerful 16 megapixel APS-C CMOS sensor. With eleven different autofocus points, it is more than sufficient for basic point and click shooting.
For photographers that prefer to customize their shots, you can easily adjust a wide range of settings with manual focus and more. The camera has an ISO range that goes up to 51,200 making this an excellent choice for low light environments. On Amazon, the camera comes with a 50-200mm WR lens and a WR f3.5-5.6 lens that offers more than enough zoom for most users. You can also opt for a bundle that comes with a 64GB memory card as well. As far as shutter speed goes, this camera has a minimum shutter speed of 30 seconds and a maximum shutter speed of 1/6000 of a second.
Video Capabilities
In this part of our Pentax K-50 review, we are going to cover the video capabilities of the camera. Keep in mind that this camera was initially released in 2013 and does not offer 4K video support. However, the camera does have a continuous shutter speed of six FPS and it records in full 1080p format. One downside is that there is no continuous autofocus mode while shooting video. This can make it difficult to keep fast moving objects in focus while recording.
Pros and Cons
Pros
Durable weather sealing throughout the camera body;
Ideal for low lighting environments;
Fairly impressive battery life;
Eye-Fi card compatibility;
Automatic shake and dust reduction.
Cons
No 4K video support;
Camera sensor is slightly weaker than newer models;
The camera itself lacks wifi functionality;
Fixed screen position;
Video shooting lacks continuous autofocus option.
Pricing
The base price for the Pentax K-50 on Amazon is just over $590 and includes a 50-200mm WR lens and a WR f3.5-5.6 lens.
Verdict
Based on the specifications covered in our Pentax K-50 review, we feel that the camera is more than adequate for most new photographers looking for their first DSLR camera. It features an adequate sensor strength that is perfect for smaller projects and has a lower price tag than many newer models. It also comes with two different types of lenses. Feel free to tell us what you think about the camera's potential performance characteristics.