Pentax's release of their first full-frame DSLR, the Pentax K-1, offers up an intriguing option to woo any enthusiast photographer. As you will see later on in this Pentax K-1 review, this camera includes a host of top-notch features and incredible specs. With features, specs, and more combined, the Pentax K-1 is a stellar option that is certainly worth the price tag. Stay tuned for our Pentax K-1 review to learn more about this great camera.
Pentax K-1 Specs
36.4MP Full-Frame CMOS Sensor;
PRIME IV Image Processor;
3.2-inch 1,037k-Dot Cross-Tilt LCD Monitor with 100% Screen Coverage;
Optical Viewfinder with 0.70x Magnification and 100% Coverage;
Full HD 1080p Video Recording at 30 frames per second;
SAFOX 12 33-Point Autofocus Sensor;
Full Resolution Continuous Shooting at 4.5 frames per second;
ISO Range of 100-204800;
5-Axis In-Body Shake Reduction;
Built-in Wi-Fi and GPS Connectivity;
SD / SDHC / SDXC Memory Card Compatibility;
Dimensions of 5.4 by 4.3 by 3.4 inches;
Weighs 32.6 ounces.
Pentax K-1 Features and Performance
Build and Buttons
The Pentax K-1's construction takes on the same build as its predecessors — a solid magnesium-alloy construction that maintains a lightweight feeling. Weather sealing protects from dust, cold, rain, and snow, thanks to a special type of sealing present at eighty-seven specific areas on the camera. The K-1 is also freeze-proof up to 14 degrees Fahrenheit.
Although the unit isn't the sleekest, its design is packed to the brim with desired features that are apt to lure in any enthusiast. On the right side of the body, the camera has a deep handgrip that features a rubberized coating for added stability. Working in combination with this front handgrip is a rear groove for the thumb. Each grip is comfortable to handle and is perfect for hands of any size to maintain a secure hold.
The controls on the Pentax K-1 are mostly simple and quite self-explanatory. Some highlights include two main command dials and a multi-function control dial, all of which can be customized. The multi-function control dial gives users quick access to nine settings, including exposure compensation, ISO, and more. This dial is an especially welcome design choice as it rids the need for an overabundance of physical controls.
Also present is the camera's directional controller, which doubles as a shoot setting selector and an autofocus point selector. Simply toggle between the two selections with the press of a button. Further, a nice addition to the Pentax K-1 is the presence of LED lights on the exterior of the body. These lights illuminate different areas, making lens changes or control adjustments easy even while shooting in the dark.
Display and Functions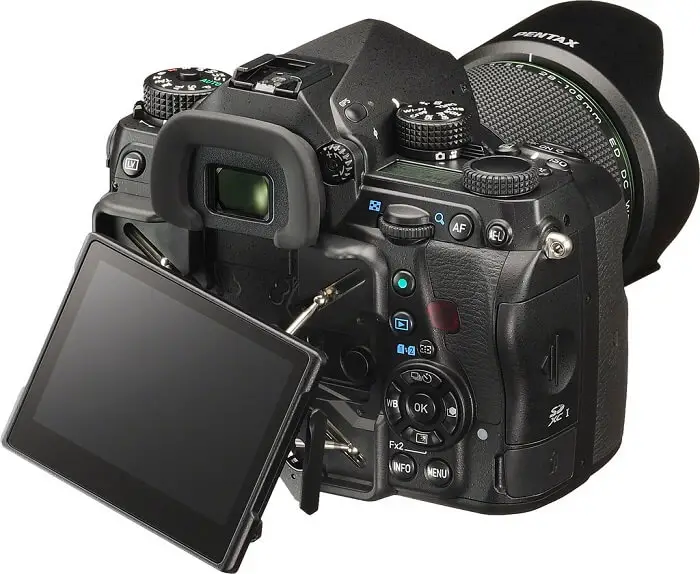 The Pentax K-1 features a 3.2-inch 1,037k-Dot cross-tilt LCD monitor with 100-percent screen coverage. The articulation this monitor presents is quite useful, tilting in every direction at almost 90 degrees. A secondary hinge on the LCD monitor is responsible for waist-level or close-to-the-ground shooting. Note, however, that while the monitor can be tilted in various ways, it lacks the ability to angle forward for self-portrait capture. The brightness of the monitor is especially impressive, maintaining visibility even while shooting outside under sunlight.
In this Pentax K-1 review, we must also address the solid viewfinder this camera presents. The K-1 features an optical viewfinder with 0.70x magnification and 100-percent coverage. The biggest highlight of the viewfinder is its illuminated LCD overlay, which provides a customizable grid, a dual-axis level gauge, and a crop area indicator.
Sensor, Resolution, and Autofocus
Equipped with a 36.4MP Full-Frame CMOS sensor and a PRIME IV image processor, the Pentax K-1 excels in capturing incredible images. Full-resolution continuous shooting speed clocks in at 4.4 frames per second. Although this speed is perfectly satisfactory for the average user, those needing to capture fast action, like sports or similar events, will likely want to look for another camera.
The Pentax K-1 does an excellent job of maintaining accurate coloring while striking a balance between superior image quality and noise visibility. For instance, the ISO range is 100-204800 — JPEGs maintain a clean look through ISO 1600 and depending on the shooting conditions, images can remain usable up through ISO 25600 and perhaps even higher. One of the elements responsible for the incredible image quality is the camera's in-body shake reduction feature. This image stabilization works quite well when put to the test under low-light shooting conditions.
The Pentax K-1 includes a SAFOX 12 autofocus sensor, which features 33 points, 25 points of which are cross-type. Solid focus performance is possible even in extremely dark conditions, although speed is significantly diminished. Further, the camera's Pixel Shift Resolution feature, when activated, works in combination with the autofocus and other functions to capture photos with increased detail resolution and improved color. An 86,000-pixel RGB sensor offers up a solid system for metering, enabling accurate exposures through scene analysis and subject detection.
Video and Wi-Fi Capabilities
The last major topic we will focus on in this Pentax K-1 review is the unit's video and Wi-Fi capabilities. Compared to the competition, the Pentax K-1's video functionality is satisfactory but not mind-blowing. It records Full HD 1080p video at 30 frames per second.
Operating the autofocus function while in movie mode is possible and a welcome feature. However, note that autofocus must be engaged prior to recording. The Pentax K-1 doesn't provide access to 4K video capture or clean HDMI output. Despite this camera's incredible image quality and overall performance, its video functionality doesn't quite stand out as a key deciding factor for purchasing — that being said, it certainly performs well enough to get the job done when needed. Dedicated videographers would be better off with another unit more devoted to movie capture.
The Pentax K-1 features built-in Wi-Fi and GPS connectivity. The Wi-Fi paired with Ricoh's Image Sync App allows for a seamless transfer of images from the camera to your smartphone for instant sharing and editing. Even control the camera remotely, adjusting the focus, aperture, ISO, shutter speed, and more via the app.
As for the GPS functionality, this allows you to tag your photos with their corresponding physical location. The built-in system keeps track of the photo's latitude, longitude, and altitude. This data can then be used in combination with the camera's unique AstroTracer function, which eliminates visible star trails from long exposure images by essentially freezing the motion of the stars.
Pricing
The Pentax K-1 is available in four configurations: the body only, priced at $1,897; the body with 28-105mm lens, priced at $2,394; the body with 24-70mm lens, priced at $2,994; and the body with 15-30mm lens, priced at $3,197.
Verdict
Thanks for sticking around for our Pentax K-1 review to learn about the pros, cons, and more of this incredible camera. It delivers superior image quality, great handling, excellent performance, and a rugged build quality that truly makes it stand out above the rest of the competition. Although this camera truly shines with still life, portrait, and landscape photography, the Pentax K-1 is capable of capturing it all. If you enjoyed this Pentax K-1 review, leave us a comment below and share your thoughts.