The frontrunner of the Nikon world has long been the D4 line, which introduced Nikon's first professional-level DSLR. Similar in overall function to its predecessor, the Nikon D4S takes photography to the next level, bringing together the best features of the D4 and expanding into uncharted territory with its improved autofocus system, faster speed, better performance, and even more satisfying ISO range. Check out our review of the pros, cons, and best features of the Nikon D4S.
Nikon D4S Specs
16.2MP FX-Format CMOS Sensor.
EXPEED 4 Image Processor.
ISO 100 – 25600, Expandable to 50 – 409600.
3.2-inch 921k-Dot Rear Screen LCD Monitor.
Pentaprism Viewfinder with 100% Coverage and 0.70x Magnification.
Full HD 1080p Video Recording at 60 fps.
Continuous Shooting up to 11 fps.
Multi-CAM 3500FX 51-Point AF Sensor.
91k-Pixel RGB Sensor and Group Area AF.
14-Bit RAW Files and 12-Bit RAW S Format.
1000 Base-T Gigabit Wired LAN Support.
Optional Wi-Fi Functionality with WT-4A or WT-5A Adapter.
CompactFlash / XQD Memory Cards.
Dimensions of 6.3 x 6.2 x 3.6-inches.
Weighs 2.7 pounds.
Nikon D4S General Information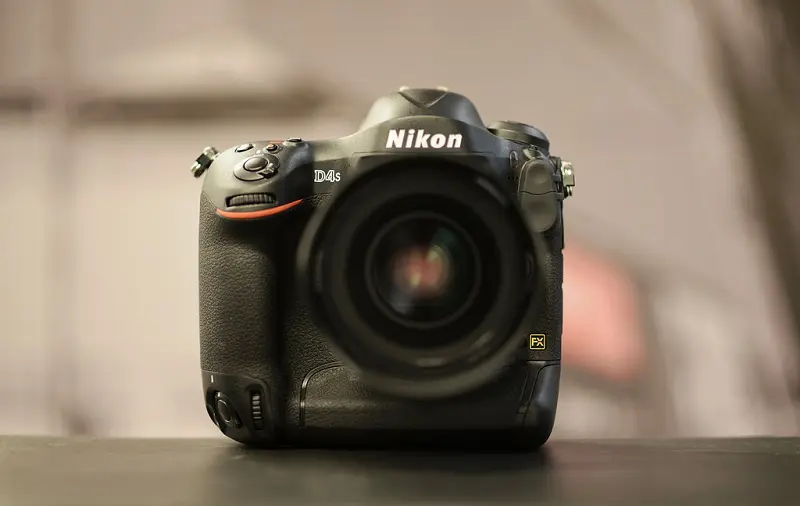 Body, Buttons, and Build
Whether you are a working professional looking to get your hands on some of the latest and greatest technology or an enthusiast looking to take your photography a few notches higher, the Nikon D4S is one of the best options out there. The body of the Nikon D4S features an ergonomic grip and textured joysticks, both of which have been integrated to assist photographers during long shooting sessions. Despite its overall bulk and heft, the D4S feels comfortable in the hand. The build quality is superior to its competition, providing a full weather-sealed magnesium-alloy body that protects from moisture, dust, and electromagnetic interference.
The overall body features controls that put all functions easily within reach. Included on the front plate are Pv (depth of field preview) and Fn controls, two front control dials, and a switch-button combination for controlling autofocus. The top plate features controls for adjusting the drive mode, as well as buttons to configure flash, bracketing options, and metering pattern.
Also included are buttons for selecting various modes, setting exposure compensation, and a record button for videos. The back plate offers controls for playback and two AF-ON buttons for autofocus activation. A second shutter release is provided as part of the vertical shooting grip, along with a lock exposure button. Available are anti-slip joysticks and a directional pad, both of which can be used to move the active focus point. Many of the rear buttons feature illumination for easy visibility even when in dim lighting. Further, many of the camera's buttons can be configured based on user preference.
Display and Zoom
Equipped with a 3.2-inch 921k-Dot LCD monitor, the Nikon D4S offers the perfect size for live view monitoring and image playback. A nice touch of this monitor is the ability to adjust the color tone. The sharpness of the monitor allows users to quickly confirm focus, whether shooting stills or recording video in Live View. Note that the screen is static, lacking both tilt and swivel capabilities.
The pentaprism viewfinder offers 100-percent coverage with a magnification level of 0.70x and is compatible with various eyepieces and adapters. Even when shooting at the full continuous rate of 11 frames per second, there is little blackout time between shots, allowing for maximum continuity of your subject. When using wide-aperture manual focus lenses, Live View is your best bet to lock focus. However, when using narrower apertures, the Nikon D4S's electronic rangefinder is the most reliable indicator, showing a small green dot in the viewfinder once focus has been locked.
Sensor and Speed
With its 16.2MP FX-Format CMOS sensor and EXPEED 4 image processor, the Nikon D4S delivers some of the highest quality images with superb detail and color accuracy. This camera's low-light capabilities are incredible, providing a native maximum ISO of 25600 and allowing for an expandable ISO of up to 409600 — this gives the D4S the capability to capture superior images even in the darkest of conditions.
The overall speed that this camera delivers is due to its upgraded image processor, which enables users to shoot 200 shots in full-resolution JPEG format at 11 frames per second while maintaining auto-exposure metering and autofocus. If RAW format is preferred, users can capture up to 104 shots at 11 frames per second.
Focus
Another major highlight of the Nikon D4S is its 51-point autofocus system. The new feature of Group Area AF mode allows for the activation of four surrounding autofocus points to a single autofocus point of your choosing — this helps to maintain focus of small subjects on the move, even if said subject moves out of that central point. Additionally, single-point autofocus, 3D-tracking autofocus, auto-area autofocus, and dynamic-area autofocus modes are available.
Further, when capturing stills or videos from Live View, a contrast-based autofocus system works to lock focus and track fast-moving subjects. When utilizing this particular type of autofocus mode, supplemental options include face-priority autofocus, normal-area autofocus, wide-area autofocus, and subject-tracking autofocus. A nice addition to the Nikon D4S is called autofocus point position memory, which keeps the autofocus point aligned when changing from landscape to portrait orientation and vice versa.
Video Capabilities
The Nikon D4S offers the capability to record full HD 1080p video at up to 60 frames per second. Multi-area mode allows for more versatility, enabling users to narrow the effective field of view while recording. Manual exposure mode allows for the use of ISO Auto Control, as well as real-time adjustable audio settings like selectable frequency ranges and enhanced wind noise reduction. The output of uncompressed 1080p60 video via HDMI for use in external recorders is an option, but H.264 video can also be recorded directly to an internal CompactFlash or XQD memory card.
Other Features
Various frequencies available for audio include Wide Range and Vocal Range, and the microphone sensitivity can be adjusted while shooting. For instant backup, the Nikon D4S is capable of simultaneously recording to both an external recorder and memory cards. Further, the D4S offers a 1000 Base-T Gigabit Ethernet connection with an approximate transfer rate of up to 185Mbps, as well as optional Wi-Fi functionality that allows for the transfer of files with the use of a WT-4A or WT-5A adapter.
Nikon D4S Price and Extras
The Nikon D4S is priced at $5,499 for the body-only configuration. This configuration provides users with everything needed to get up and running, except for a lens. Perhaps the best everyday lens companion that can be used for both day and night shooting is the Nikon AF NIKKOR 50mm f/1.8D, priced at $131.95.
Verdict
One might glance at the specs of the Nikon D4S and immediately notice the low pixel count, but it is that same pixel count that allows this camera to keep up with its fast continuous shooting rate and high burst depths while still maintaining exquisite image quality. With its rugged build and nearly nonexistent shutter lag, the Nikon D4S is suited to any type of photography, and because of its professional-level features and controls, users easily overlook the heft of this top-notch DSLR.
If you get your hands on the Nikon D4S, let us know what you think!