Think this page will be all about the GoPRO and its latest iteration, the 3+ generation? Think again. It's not that the diminutively sized action cam is not a great waterproof video camera option – but there's plenty more fish in the sea to choose from. At the same time, it's only common sense to assume that not everybody is into the GoPRO's trademark fisheye look, nor is everyone such an extreme sports aficionado that they won't consider other options for filming when diving, caving, or undertaking any other water-related activity.
That being said, we've listed out top 3 waterproof video camera choices, from the best to the least good (yet solid, in terms of performance and price/quality ratio). Perhaps many will be surprised to learn that Panasonic did not make the top of our list, or that Kodak isn't even mentioned. It's not that we don't acknowledge Panasonic's long-standing history on the rugged camcorder market. However, it would've been foolish of us to ignore their contenders, which have produced low-cost, equally viable alternatives throughout the past few years. Without further ado, check out the list, head down to Amazon (or your favorite retailer of choice) and pick your favorite. One thing's for sure: every water proof camera on the list below will turn the job of shooting under water into a dream come true.
1. Sanyo Xacti VPC-CA9
Harken back to the days when there was nary a contender for Panasonic on the tough, shockproof, waterproof camera market. They were issuing one great model after the next, yet it did feel a bit like they had the market under their thumb. In came Sanyo, whose revolutionary mass production technologies were able to create waterproof camcorders at a fraction of Panasonic's cost. It goes without saying that their prices were far more reasonable to. Out of the stream of waterproof cameras produced by Sanyo, we've picked the VPC-CA9, which shoots in HD and also fares well underwater.
The camera shoots in 720p, is able to withstand depths of 1.5m, and it also comes with a coveted IPX8 accreditation. This is by no means a perfect camera, but rather one that strikes a fine balance between performance, resistance, and pricing. In terms of resistance to shock and water, it's important to note that the VPC-CA9 only comes with a single cover for all its vulnerable spots: the USB port, the SDHC memory card slot, and the battery. At the same time, it has zero guarantees against shocks, since it hasn't been tested for resistance to impact. In other words, if you're into dynamic, shock-plentiful watersports, you're probably best advised to look for a camcorder with better credentials.
At the same time, the Sanyo CA9 comes with some awesome perks, performance-wise. First off, it has a 9.02MP CMOS, which does a great job at allowing light in (also thanks to its 1/2.5in diameter). In real life conditions, this translates as a camera which can shoot high quality images in low lighting conditions – it does so with far better results than other cameras in the same category. Of course, since there's always room for improvement, it's only fair to say that it doesn't compare with some premium HD waterproof cameras out there. Yet, for its price category (which is under $200), it's great and will work just fine at the beach or at your favorite pool.
2. Panasonic SDR-SW21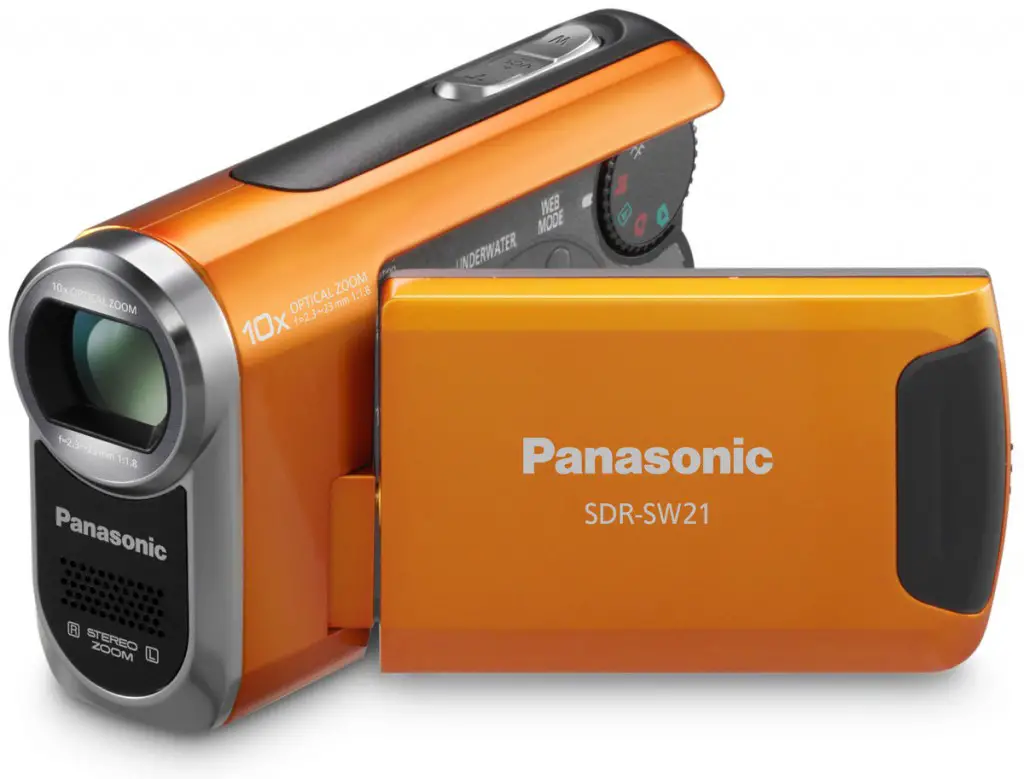 As explained above, gone are the days when Panasonic had no reason to worry about having its supremacy on the waterproof camera market niche questioned. However, even though Sanyo has outsmarted it in terms of pricing to quality, Panasonic still reigns supreme in terms of sturdiness, toughness, and other factors that matter a great deal to aquatic sports enthusiasts. The Panasonic SDR-SW21 has been certified to withstand depths of up to 2m and is IPX8 certified. Unlike the Sanyo waterproof video camera above, it has also been tested for impact and shock resistance and can take drops of up to 1.2m (the standard it observes is the MIL-STD-810F METHOD 516.t SHOCK). Another plus point for this camera is that its dustproof, which makes it ideal for the beach; to boot, its casing includes a floating device, which means that you can drop it into the water and see it floating above. Its brightly colored body will also help you spot and rescue it from certain destruction.
Problems with this camera arise when we start analyzing the quality of its output. It only shoots SD video, not HD, and performs less stellarly in low lighting conditions than the Sanyo camera above. Furthermore, the resolution is an unusual 704x576p, which doesn't conform to the 720x576p standard that most cameras on the European market observe. The 1/6in CCD sensor is not capable of HD performance. You can shoot at three different data transfer rates, from 2.5MB/sec to 10MB/sec. At the top speed rate, a standard 2GB SDHC card will be able to store about 25 minutes of video footage.
In terms of security, this camera was an improvement at the time it came out, in comparison with previous models. It has a watertight door for each set of ports and they're fastened into place via a screw catch. In fact, it was this very upgrade that allowed the Panasonic camera to go from a maximum depth of 1.5m with previous models to this one's 2m. It may seem trivial, but that 0.5m difference is what makes this particular camera suited for the deeper end of most amateur swimming pools.
3. Sanyo Xacti VPC-WH1
Not only did Sanyo outsmart Panasonic in terms of price tags, but it also beat them to yet another milestone in underwater shooting: it released the very first HD shooting waterproof video camera. Now, that may seem like a big deal – and it is. There are several other counts on which the WH1 scores highly, such as waterproofing. All its ports and openings are sealed with a rubberized gasket, which qualifies the camera for the IPX8 standard; however, on the downside, there's no mention as to the kind of drops the camera will withstand. Unlike the SW21, which could survive a 1.2m plummet, the WH1 may – or may not – be shockproof.
In terms of video footage quality, the WH1 leaves a lot to be desired, too. It comes with a CMOS sensor, indeed, but at 1/6in and 1.1MP in resolution, the specs are modest at best. It can support a 30x optical zoom, but, at the same time, this is not a full HD camera, as it only shoots at 1,280x720p and doesn't go all the way up to the standard Europe rate of 30fps. You can also opt to shoot at a 640x480p resolution, at a speed of 30 to 60fps. At the top rate, the transfer speed reaches 9MB/sec, which means that a typical 8GB SDHC memory card will accommodate two hours of footage. Though it doesn't perform as well as its predecessor in low lighting conditions either, owing to its tiny sensor, there's still something to be said about this camcorder's battery life. When fully charged, it will soldier on for no fewer than three hours. Bottom line: this camera is far from perfect in terms of video output, but it's definitely sturdy and reliable underwater.