Fujifilm's premier model of their groundbreaking "T" line is the Fuji XT1. The "T" stands for "tough," which the XT1 certainly is, armed with a rugged magnesium-alloy body and weatherproof buttons and compartments, elements lacking in Fuji predecessors like the prominent X-E, X-M, and X-Pro lines. For those desiring access to a product that delivers the utmost quality with an updated but still user-friendly interface, look no further. Let's take a peek at the features, pros and cons, and specs to help you decide if the Fuji XT1 is the camera for you.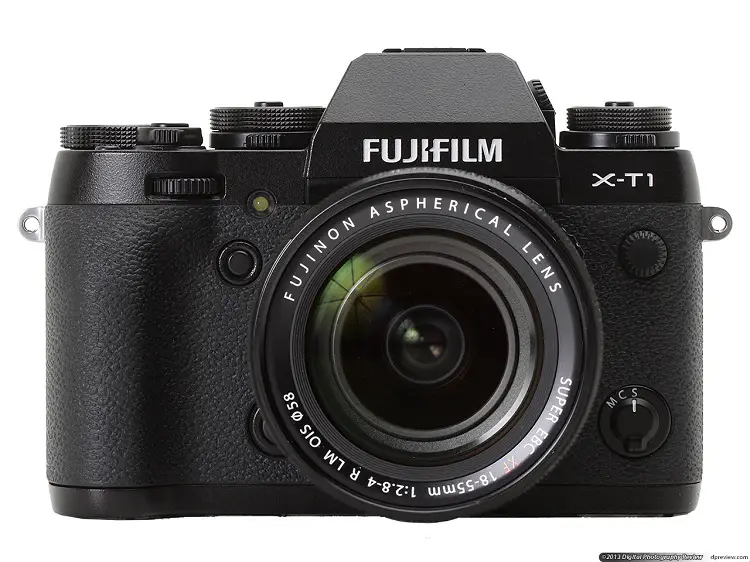 Fuji XT1 Mirrorless Digital Camera Review
The first weatherproof camera of its kind from Fuji, the XT1 combines popular features with a rugged but compact body, targeting a larger audience consisting of both hobbyists and professionals. Taking a cue from Fuji's signature retro styling, the Fuji XT1's design is pleasing to the eye and incredibly practical, featuring a fairly chunky and solid, yet comfortable, grip with a good-sized thumb rest at the back. Specially crafted for use in varying conditions, the weatherproof body contains no less than 75 weather seals, is dust and water-resistant, and can operate in freezing temperatures of up to 14 degrees Fahrenheit. The aluminum dials on the camera's top plate allow for easy adjustment to shutter speed, ISO, and exposure compensation, including switches for metering and drive mode.
A major highlight of the Fuji XT1 is its large high-resolution electronic viewfinder. Included are multiple overlays, one of which is a horizon indicator that turns green once achieving the perfect framing. This feature is not available on the LCD monitor, only on the EVF. Fujifilm made great strides in the EVF with the XT1, essentially ridding the lag that plagues various models. Other features include Dual View, which not only displays the full scene but also a smaller image of a magnified view to one side of the EVF, with focus peaking or digital split image for manual focusing. Portrait orientation mode is available when the camera is rotated vertically, allowing the settings to display at the bottom and top of the image.
Despite the groundbreaking technology and workmanship put into the EVF, some users prefer to shoot using the 3-inch tilting LCD monitor. The tilting feature allows images to be easily shot from either low or high angles. Although many LCD monitors are difficult to see while outdoors under the glare of the sun, the Fuji XT1 offers up a monitor that is useable even in harsh sunlight. However, something worth noting is that the LCD monitor is controlled with buttons, not touch.
The shutter speed of the XT1 is impressive, coming in at eight frames per second when using continuous autofocus or three frames per second when using live view. Phase detection and contrast detection are available, the camera being specifically crafted to result in an ultra-fast hybrid AF system in which switching between each mode takes a mere 0.08 seconds. Another major highlight of the Fuji XT1 is the AF, which strives to maintain accuracy in low light and has a start-up time of 0.5 seconds with a shutter lag of 0.05 seconds. Equipped with Wi-Fi capabilities, the XT1 can be used in combination on a smartphone or tablet with the Fujifilm Cam Remote app. An applauded feature, this app allows for the control of certain functions like AF point positioning.
While this camera has the capability to record video, the true precision and beauty of the 16.3-megapixel Fuji XT1 is clear in the exquisite image quality. The ability to produce sharp photos with excellent color rendering and great dynamic range is due to the advanced sensor. A minor negative to this camera is that it lacks a built-in flash but even that fails to damage the quality of the images. The ISO range is fairly moderate, running from 200 – 6400. This range can be adjusted — on the high end, expansion to 12800 and 25600 is available, and ISO 100 at the low end. Note that these settings apply to JPEG format only, not RAW.
Add-ons for the Fuji XT1 are available for purchase. One accessory exclusive to this line is a vertical battery grip, the VG-XT1, which is equipped with additional buttons for holding the XT1 vertically. In order to bulk up the standard grip, check out the MGH-XT; this type of grip may offer better handling when shooting with larger zooms. Further, if desired, a clip-on external flash with a standard hot shoe is available.
A clean design filled with features and specifications that will give even the most critical users something to rave about, the XT1 packs excellent processing and imaging power into a compact design. The stunning quality of photos can be relied upon whatever the conditions, making the Fuji XT1 one of the best, most efficient cameras in today's competitive market.
Fuji XT1 Mirrorless Digital Camera Specs
0.77x, 2.36m-dot EVF.
3:2 aspect ratio, 1040k-dot, 3" tilting LCD monitor.
16.3MP APS-C X-Trans CMOS II sensor.
Sensor cleaning system with ultrasonic vibration.
ISO 200 – 640, extended to 100, 12800, 25600, and 51200.
8.0 fps for continuous AF.
3.0 fps for live view.
FUJIFILM X lens mount.
JPEG, RAW, RAW+JPEG image format.
MOV / H.264 / Linear PCM Stereo video format.
SDHX / SDXC / Class 10 memory cards.
Battery life for 350 frames under typical conditions.
Weighs in at 15.4 ounces.
Fuji XT1 Mirrorless Digital Camera Pricing and Extras
The Fuji XT1 is priced at $1,299 for the black edition and $1,499 for the graphite silver edition. The black edition is available in two configurations, one with an 18-55mm lens for $1,699 and one with an 18-135mm lens for $1,899.
The Fuji XT1 is a great choice for users of any proficiency level and especially useful for travelers likely to shoot in tough weather conditions. With a stunning image quality, this camera is worth the price and will not disappoint. Share your thoughts on whether or not the Fuji XT1 is right for you!