The Rebel line of Canon DSLRs have a well-earned reputation as a line consisting of beginner-friendly cameras, and the Canon SL1 Rebel is no different. Ultra-lightweight for a DSLR, the Canon SL1 maintains a compact body while still offering typical features, such as an optical viewfinder, built-in flash, and an 18MP APS-C CMOS sensor, making it the perfect choice for any hobbyist. Take a look at some of the features, pros, cons, and specs of the Canon SL1 Rebel and decide if it's the right choice for you.
Canon SL1 Rebel Review
Similar in overall design and build to previous Rebel DSLRs, the size difference of the Canon SL1 is quite surprising. Managing to trim off a good amount of excess body in every direction without sacrificing any particular design elements allows for an overall lightweight camera. An ergonomic grip makes the camera fit securely in the hand. Contained on the top of the camera are a few controls, such as the three-way on/off/movie switch and the ISO button. The on/off/movie switch allows for easy access to Movie Mode, instantly enabling the seamless capture of any and all candid moments. Also located on the top is a mode dial, which can be used to switch between various settings, including fully automatic, semi-automatic, and fully manual modes.
On the back sit a zoom button, live view trigger, four-way directional pad, and more. Instead of direct controls for drive mode, autofocus mode, white balance, and Picture Styles, use of the intuitive touchscreen is required. The Canon SL1 is an easy camera for beginners to get a handle on and even easier for users already familiar with Canon DSLRs.
Fixed to the rear of the Canon SL1 is the 3-inch, 1.04m-dot Clear View II Touchscreen; despite lacking tilting or side-swiveling capabilities, the monitor provides a good view whenever shooting from awkward angles may be required. The touchscreen is especially useful when reviewing images — simply swipe through and pinch the desired image to zoom in and check for accurate focus.
When shooting in Live View, use the touchscreen to activate the shutter release or adjust the focus point. This intuitive interface makes it easy to navigate the settings, and adjust based on the shooting conditions. The biggest issue users seem to have with this screen is that because it is a fixed rather than a tilting screen, it can be difficult to see while shooting outdoors, especially from glare and reflections in bright sunlight. However, since most relevant settings can be found in the viewfinder, shooting stills doesn't pose the same issues shooting video does. If use of the viewfinder is preferred, the Canon SL1's optical viewfinder, providing approximately 95-percent coverage, will not disappoint. Although smaller in comparison to the touchscreen, it nevertheless provides users with a clear and bright view.
Equipped with an 18MP APS-C CMOS sensor, the Canon SL1's overall performance is quite powerful, resulting in stunning images with accurate colors. Noise performance is outstanding with an ISO range of 100 – 12800, expandable to 25600. The details are crisp and vivid even at mid-range ISO 400. Around ISO 1600, some noise begins to appear but is not necessarily noticeable if images are kept to an average size. Images shot at ISO 3200, even ISO 6400, can be usable at smaller sizes, though some noise is visible. When attempting to capture a shot with extra detail, RAW format is the best choice, as it gives users the chance to control the amount of applied noise reduction.
The camera's automatic white balance works effortlessly to produce quality images in various conditions; that being said, this feature sometimes favors slightly warmer tones when faced with artificial lighting. General-purpose metering helps to capture balanced exposures but struggles in high contrast scenes, sometimes either over- or under-exposing depending on the actual brightness of the subject.
Utilizing a DIGIC 5 Image Processor, the Canon SL1 is able to shoot at 4fps in continuous shooting mode, quick enough to capture candid moments and sports action. The camera's Hybrid CMOS AF II system features an expanded autofocus area that covers nearly 80-percent of the height and width of the Live View display, resulting in more overall flexibility. Performance of the 9-point autofocus system is excellent, locking onto subjects with ease. Something to keep in mind is that the speed of the autofocus system may tend to drop slightly when shooting with Live View. Due to this, some users have found Live View to better serve for mostly still subjects, or better yet, for macro or tripod work.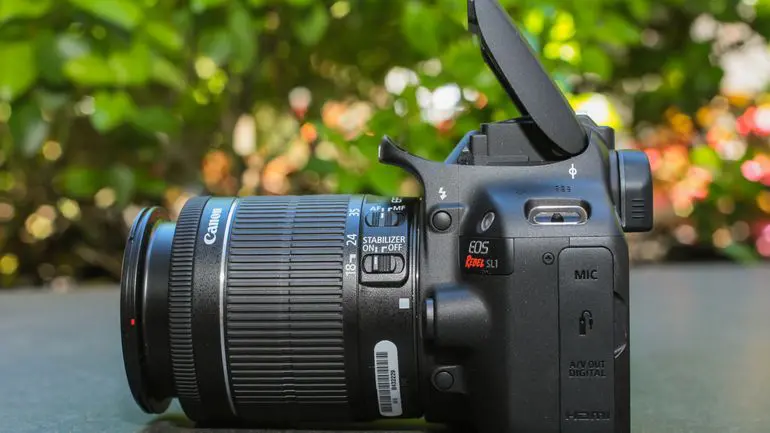 Canon SL1 Rebel Specs
18MP APS-C CMOS Sensor.
DIGIC 5 Image Processor.
ISO 100 – 12800, Expandable to 25600.
3-inch, 1.04m-dot Clear View II Touchscreen.
Optical Viewfinder with 95% Coverage.
Full HD 1080p Video at 30fps.
9-Point AF and Hybrid CMOS AF II.
4fps Shooting for 28 JPEGs, 7 RAW Files.
63-Zone Dual-Layer Metering System.
Scene Intelligent Auto Mode.
Built-in Flash.
SD / SDHC / SDXC Memory Cards.
Dimensions of 4.6 x 3.6 x 2.7-inch.
Weighs approximately 13.05 oz.
Canon SL1 Rebel Price and Extras
The Canon SL1 Rebel is priced at $399 for the body-only configuration. Three additional lens configurations are available: the 18-55mm lens at $499, the 18-55mm and 73-300mm lens bundle at $599, and the 18-55mm and 55-250mm lens kit at $649.
Conclusion
A great entry-level DSLR, the Canon SL1 Rebel is perfect for any enthusiast photographer. Its compact body makes it particularly easy to utilize during travel. Although not necessarily groundbreaking in its features, this incredibly powerful camera offers users a solid DSLR option that produces quality images and video for a fairly inexpensive price, and proves to be worth every cent. Let us know what you think about the Canon SL1 Rebel and share your experiences!