Printing your photos from home is convenient and easy thanks to photo printers like the Canon Selphy CP910. This printer is loaded with features that make it a great choice for those who are seeking a great balance between convenience and price.
The Access Point Mode eliminates the need for traditional cables and allows you to easily transfer photos wirelessly. There are many other features that will be covered further below. This review is going to offer a detailed account of the pros and cons of the Canon Selphy CP910 photo printer. It will also cover its most useful features.
Canon Selphy CP910 Photo Printer Review
The Canon Selphy CP910 is an excellent photo printer for basic home use. Its lightweight and compact design make it a great choice for both home offices and travel use. The device uses a unique dye-sublimation process to quickly and efficiently print your photos while you watch.
The Access Point Mode makes connecting the Canon Selphy CP910 to your home network quick and easy. This mode allows you to send photo data to your printer using a broad range of home network devices.
In addition to Access Point Mode, the printer also supports wireless transmission using AirPrint and Mobile Device Printing. AirPrint is used for compatible Apple devices and Mobile Device Printing is available for compatible Windows and Android phones.
The Canon Selphy CP910 also supports multiple traditional connection types. It supports memory cards, flash drives, and USB tethering options. To use the USB option from a computer, you simply need to install the included software from the appropriate disc. The program is compatible with Windows 7 and higher and Mac.
The printer is able to print photos up to 4″ x 6″. It also has some editing capabilities like red-eye reduction and auto crop as well. This makes it perfect for using your photos to create unique holiday greeting cards and other gift ideas.
There are several unique pros and cons associated with the Canon Selphy CP910 photo printer. The below sections will break those elements down into further detail.
Canon Selphy CP910 Pros
The Canon Selphy CP910 has many features that make it a great choice for many users. For one, the small design is an excellent choice for those with limited space. The camera is also loaded with several enhancement features that help to improve photo quality.
The printer also prints slightly faster due to its dye-sublimation printing technique. This technique allows the printer to quickly and efficiently process images in a way that is slightly faster than traditional inkjet style printers.
For travel use, there is an optional battery that can be purchased. This feature allows you to use the camera without being plugged into an electrical outlet. Couple with the compact design, this makes it an excellent choice for printing photographs while on the go.
Below are the main pros of the Canon Selphy CP910 printer:
Compact design.
Battery option eliminates the need for traditional electric cable.
Fast printing results.
Tilting display provides enhanced visibility.
Wireless functionality.
Compatible with Apple products, Windows, and Android.
Software included with purchase.
Photo enhancement options included.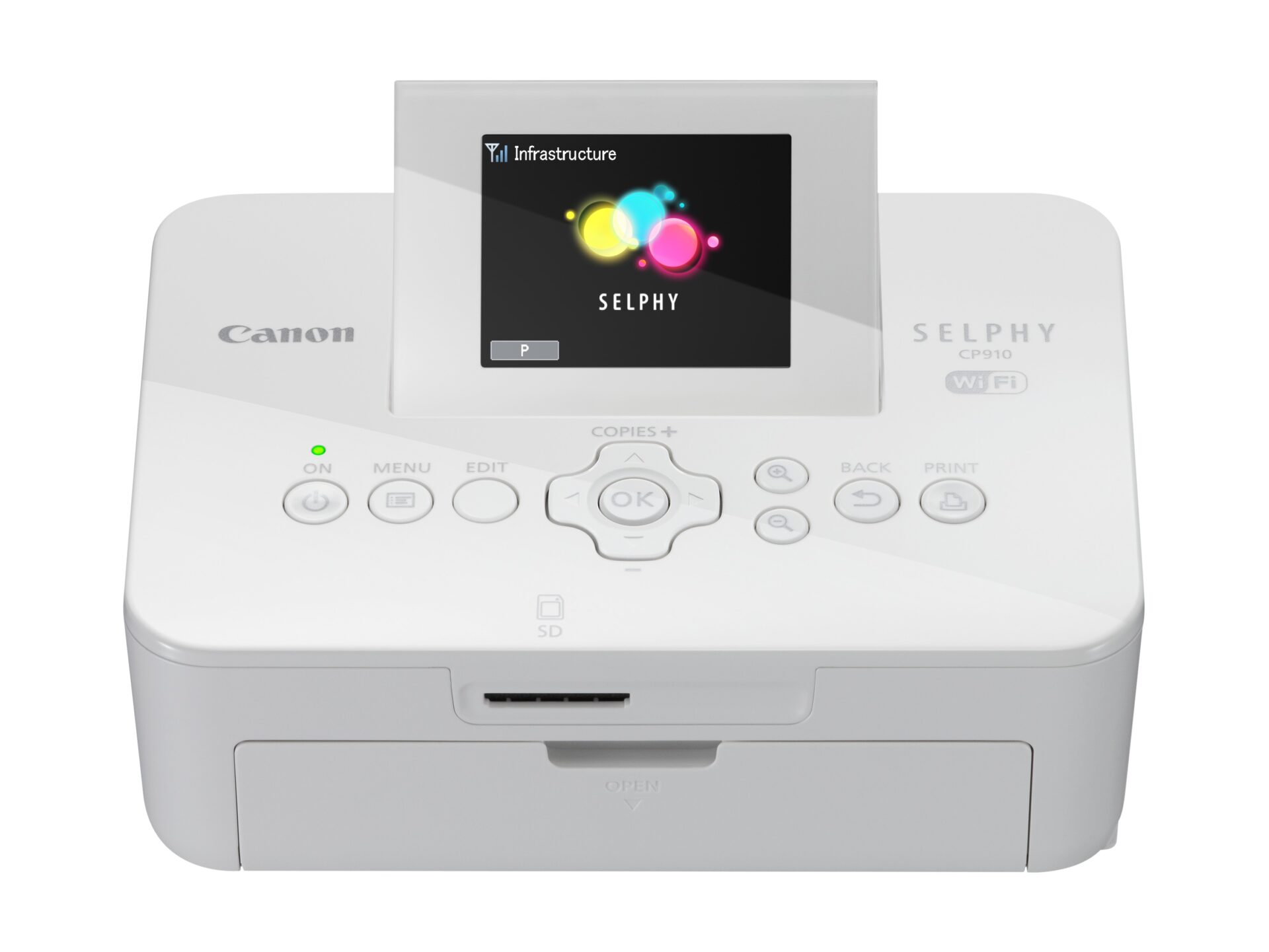 Canon Selphy CP910 Cons
While the Canon Selphy CP910 does offer some great benefits, there are also several drawbacks as well. For one, the dye-sublimation printing technique offers an inferior resolution to traditional inkjet printers. Also, you have to use a special type of paper with this printer.
In addition, many users have complained that wireless transmission results in an increase in printing time. While this is to be expected to a degree, this can drastically increase printing time when processing large batches. For one or two photos, the difference is not really noticeable.
The Access Point system has also been reported to experience issues connecting to certain channels with wireless routers. While this can usually be resolved by changing the wireless channel, this can be an issue for those who are not as technically inclined.
Below are the main cons of the Canon Selphy CP910 printer:
Printed images are not as crisp due to lower resolution.
Wireless printing time increase can cause substantial delays in batch printing.
Issues connecting to certain wireless channels.
Canon Selphy CP910 Specs
Printing Method: Dye-sublimation.
Language Options Available: 14.
Print Speed (Up To):47 seconds for a borderless postcard sized photo.
Print Resolution (Up To): 300 x 300 dpi for color.
Photo Size (Up To): 4″ x 6″.
Size: 7.0″ (W) x 5.0″ (D) x 2.4″ (H).
Weight: 1.8 pounds.
Warranty period: One year.
Canon Selphy CP910 Pricing & Additional Features
The Canon Selphy CP910 retails for approximately $99.99. The unit regularly goes on sale for $84.99 during special promotions. You can also purchase a battery pack for enhanced travel printing capability for $79.99.
The Canon Selphy CP910 is an excellent choice for those looking for a convenient way to print photos from home. While the printing technique does not offer quite the resolution of inkjet printers, it is perfect for home use and creating unique gift ideas.
The wireless functionality provides a great way to simply and effectively transfer your photos to the printer for processing. In addition to its wireless capabilities, the printer is able to read several different types of memory cards and allows for quick and easy transfer via USB and flash drive.
The compact design and the tilting display makes this printer the perfect option for small spaces with limited visibility. All of these factors make the Canon Selphy CP910 the perfect choice for convenient home photo printing. If you have used this printer yourself, then feel free to share the details about your experience.