If you are ready to make the move to professional photography, Canon EOS Rebel T5i DSLR is a solid choice. Its comprehensive interface and quick speed allow shooting with ease. Also, you can expand your creativity and photographic experience with some cutting-edge imaging features. Is it a winner in the novice-oriented class? Find out all its good and bads in our Canon EOS Rebel T5i review.
Canon EOS Rebel T5i Review: T4i Technology Reloaded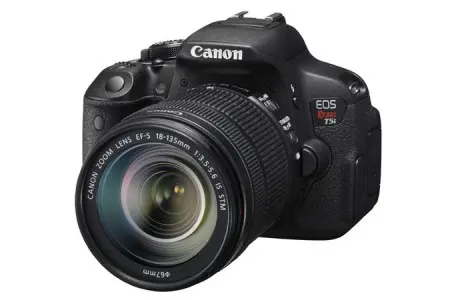 Full Name: Canon EOS Rebel T5i Digital SLR (EOS 700D) 
Type: Digital AF/ AE SLR (single-lens reflex camera)
Format: APS-C
Release Date: April 2013 (Announced on March 21, 2013)
Storage Media Options: SD, SDHC, and SDXC memory cards
Canon EOS Rebel T5i Price to Date: $649
If you are looking to buy a Canon EOS Rebel T5i body only, be ready to pay around $650. There is also a kitted option with EF-S 18-135 mm STM lenses, which will give a boost to the quality of images captured in dim light. This will take you up to $800.
General Specs & Key-Features for Canon EOS Rebel T5i DSLR Camera
Resolution:  18.o Megapixels
Continuous Shooting Rate: 5 fps
ISO: 100-12800, expandable to 25600 in H Mode
Optical Zoom Range: 3.1 x
Storage Media Options: DS
Image Processor: DIGIC 5
Weight: 27.9 oz (791 g)
Compatible Lenses: Canon EF and EF-S lens line
Canon EOS Revel T5i vs Canon EOS Rebel T4i
If you are looking at the general specifications of its predecessor in the Rebel line, the T4i, you will see that the new flagship model has no major improvements. One of the differences, though, is that Canon made a few adjustments to the CMOS AF system in order to facilitate mounting the STM lenses released at about the same time.
Also, there are a few enhancements that picky users will appreciate, such as digital zoom in Movie Mode, improved scene modes in live view, as well as a new build and texture.
Anyway, here is a more detailed overview of the camera's strengths and weaknesses.
Strengths: Needless to say that Canon EOS T5i digital SLR exhibits a few really impressive features that makes it a refined entry-level professional camera.
Its high-speed continuous shooting rate up to 5 frames per second makes it ideal for capturing subjects in movement.
Its high-performance image processor allows shooting in dim light with excellent results.
The 14-bit analog-to-digital conversion ensures the preservation of detail and accuracy when shooting subjects like sky and water.
It has exceptional movie shooting options, and the touchscreen LCD monitor is really a praiseworthy improvement.
Its 3-inch touch-sensitive vari-angle LCD monitor provides users not only with an intuitive experience but also with the possibility to shoot from difficult angles.
The Scene Intelligent Auto Mode works great, optimizing scene detection. It is especially useful when shooting at night.
The Multi Shot Noise Reduction feature improves image quality when shooting at high ISO speeds.
White Balance correction options help you adjust color temperatures.
Its real-time preview option for Creative Filters and Effects makes it even more enjoyable to use.
It is defined by high-quality video performance.
It has a great range of fully automatic modes including Creative Auto, Close-Ups, Sports, Landscape, Portrait, Special Scene Mode, Program AE, Aperture Priority.
The Manual mode offers a wide range of additional inputs to shutter speed and aperture settings.
Weaknesses: Canon EOS T5i digital SLR camera comes with a few downsides.
One of the inconveniences that we cannot overlook is that it totally lacks image stabilization technology. To ensure it, you can employ a lens equipped with Optical Image Stabilizer, but that would make another hole in your pocket.
It has a poorly designed autofocus system and optical viewfinder.
It has a short battery life as compared to other DSLRs in its category.
Also, it lacks weather sealing.
Slow autofocus performance in Live View.
Conclusion to Canon EOS Rebel T5i review: this DSLR is suitable for photographers who want to exceed the limitations of a compact camera. You'll appreciate it for the manual control and its intuitive touchscreen interface.
However, if you compare its technology with that of its competitors, and even to that of its predecessor, Canon falls behind this time.
With that in mind, we give it an overall mark of 75/100.
Hope our Canon EOS Rebel T5i camera review will prove helpful to you if you are looking to buy your first DSLR. For more useful consideration when choosing a professional camera, you can take a look at our post on How to Choose the Best Digital SLR Camera in 2015.
Also, it is always a good idea to check what other buyers say about the product. So, don't hesitate to give an eye to Canon EOS Rebel T5i reviews written by Amazon customers and Canon enthusiasts. Good luck and happy shopping!
Are you a Canon EOS Rebel T5i user? Tell us how it works for you. Your comments, suggestions, and thoughts are most welcome. Cheers!